Top 15 Wedding Photographers to Follow on Instagram for Inspiration
Deciding to take on the photography industry must be taken seriously. It is challenging to grow a photography business and have your works be seen. Especially if you are interested in doing weddings and other special events. The reason is pretty simple: there are lots, lots and lots of wedding photographers out there.
The bar is not too high for becoming a photographer at this age. Many people that great photos can be achieved even by using the latest mobile phones. Usually with a wedding preparation, forgoing a professional photographer is the first thing that is done to cut down on costs. In exchange, either a relative or a friend is tasked to take a bunch of photos during the wedding day. This, in turn, also becomes another factor to consider when you embark on making a career out of your photography skills.
Related Post: 5 Important Tips on How to Expand Your Photography Business
Wedding Photography Industry
To be competitive against established wedding photographers, you need to have some attributes that are common among them. First, you need to put in a healthy amount of effort to create success. By effort, this means allotting both time and money to hone your skills and knowledge about wedding photography. If you are not too confident about your skills just yet, you need to participate in photography classes, watch tutorials, and practice your shots for your skills to grow. Aside from the technical aspects of photography, you also need to learn how to make your shots creative either through a unique style or during post-production.
You must know how photo retouching services are done so you can do high-end retouching on your photos. Aside from these things, you must also accept the fact that for you to compete, you must be armed with the essential gear in wedding photography. Invest on a good equipment, particularly a professional camera. There are low-cost options that can work very well too as long as you are familiar about how the camera works.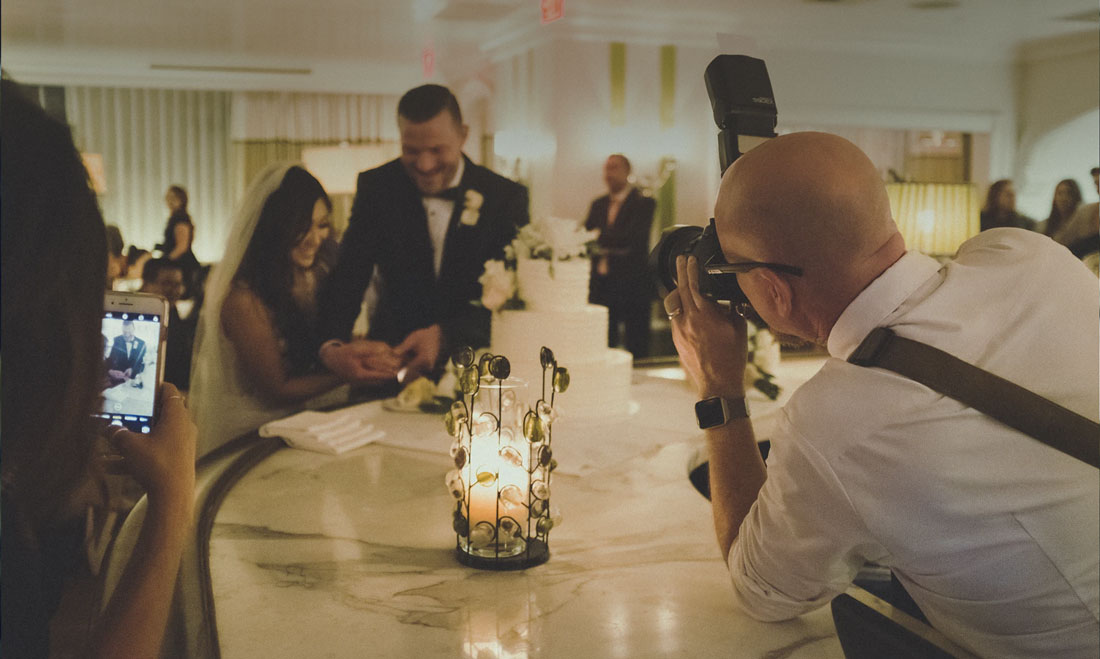 Another thing that is important is that you must be prepared to attract new clients and sell your services to them. As a starting business owner, you need to be charismatic and capable of branding yourself in a way that is acceptable and pleasing to future clients. Every couple is different and you must be prepared to shift your methods of pitching in so that it will be comfortable for the clients to discuss about what you can do for them.
All of these photography tips add up to help make you realize your goal of becoming a successful wedding photographer. To give you a boost of inspiration, here are 15 of the best Instagram feeds of successful wedding photographers that you must see. It will keep your creative juice flowing to see such beautiful wedding photos from their feeds.
Top 15 Wedding Photographer Accounts to Follow on IG
JCclick is passionate about photographing people. The style leans on achieving warm and natural photos- so perfect for the couple's big day. Aside from the bride and groom, the guests are also prioritized on the photos. The team aims to capture every moment that would define the day's festivities.
When Lynelle first ventured to wedding photography, she was faced with a challenging situation. Not only was the bride too nervous, it also rained on the day of the wedding! Instead of buckling, she took it as a challenge and focused on making the bride calm instead of getting bummed about the rain. Check out her Instagram feed to see her unique approaches to her photos.
Matt is more of an organic and fun-loving photographer. It inspires him to be able to help the bride and groom create lasting memories through his images during the big day. He once had the unfortunate incident involving a missing SD card wallet so backups are a must for all his weddings. He shares his colorful and romantic photographs on his Instagram account and even uses it to enhance his business.
Blanche likes it when she is able to capture organic emotions which is why she became a wedding photographer. She loves it when she has the best views of the couple's intimate moments during the wedding day. She has a documentary style of photographing subjects and a lot of these candid photos are on her Instagram account.
Hema heads the Designer photo team who are all in love with the emotions that are captured in traditional weddings. Their style hints a bit of fashion photography where you can see photos coming out looking as though they are for a wedding magazine. They focus on the use of colors in taking breathtaking photos that looks vibrant.
Anina is more of the romantic type and it is evident on her IG feed. She prefers to capture the bride's beautiful glow and try to show it in her photos. She is always excited to meet her clients to discuss the wedding theme. It is very important because she wants to stay in focus and see which special moments, she should be shooting at so that clients can treasure them forever.
Liezel started out as an assistant to a professional wedding photographer. She got inspired to hone her skills when she saw the flood of emotions that are captured in weddings. Her most important shot of the wedding is always that raw and emotional moment when the groom looks up and sees the bride for the first time. She also uses a documentary approach but is mixed with a modern twist.
Aside from the heart-warming photos, you will be inspired by Aaron's way of expressing his thoughts with the photos he captured on a client's wedding day. He aims to preserve the moment further by writing the story about the photos. He uses emotional captions where the viewer is able to learn the narrative behind each preserved memory.
André's Instagram feed shows colorful and bright photos that spells FUN! His refreshing takes on wedding photos will show you the incredible behind the scenes stories of the event.
Destination wedding is a thing these days and Craig is so lucky to be one of the most esteemed wedding photographers for such kind of weddings. He shoots worldwide but his New York photos are truly the most magical of all. He has a way of taking photos at the best spots. He also knows his light sources very well and even uses natural city lights to create dreamy effects in his photos.
Flowers are one of the most essential details that make weddings look dreamier and more romantic. This is why with Eric's Instagram; you can see lush florals that are beautifully captured on weddings. He is such a natural at making even a dainty boutonniere look amazing.
One of the keys to make wedding photos look magical is to make it appear as if the viewer is at the event too. This style is perfected by the team behind Gruber Photographers. Their Instagram is full of photos about unexpected moments that shows behind the scene aisle shots, candid moments of both the entourage and the guests, and other surprising moments that leave the viewer hanging on for more.
The wedding industry is big and Joel is one of the few wedding photographers who is able to appreciate his colleague and never see them as competition. Aside from showcasing his photos, he also sees to it that other important details are shown in his IG feed. He shows his appreciation by taking photos of the stunning tablescapes and even the elegant wedding invitations.
If you are looking for an Instagram feed that is both lovely and unique, Larissa's account is the one to follow! Her photos look coordinated which gives both a beautiful and artistic appeal to her feed. She also writes beautiful captions which will give the viewer a background story about the stunning images when they were captured.
Manolo is such a dear when it comes to wedding photography. He never forgets to take shots of all the details as he does not like it when something is overlooked. He will capture everything, including sneaky photos of himself, when doing weddings and other events.
Instagram is more than just a photo sharing platform. It is also where you can see brands getting amplified or created, see behind-the-scenes moments, and where businesses grow. Weddings are special and it is no wonder why Instagram accounts of esteemed photographers are regarded to have the most gorgeous shots. The Instagram accounts that were listed earlier are the best examples of how the wedding photography industry has evolved through the years. These feeds are testaments that even though anyone can be a photographer, it would take a few special people to create lasting and stunning mementos through photographs.
Grow Your Photography Studio. Partner with Us!
With Ephotovn, you will not be asking how much photographers charge because you can be confident to offer a fair price for your services because it is guaranteed that your clients will be delighted with the expert photo editing that the Ephotovn team delivers.
Receive Special Offers and Deals From Ephotovn
We hate spam. Only receive our Newsletter for the latest tips, deals, tutorials, resources and guides.
Related Post