When to Hire a Background Removal Service to Assist Your Creative Operations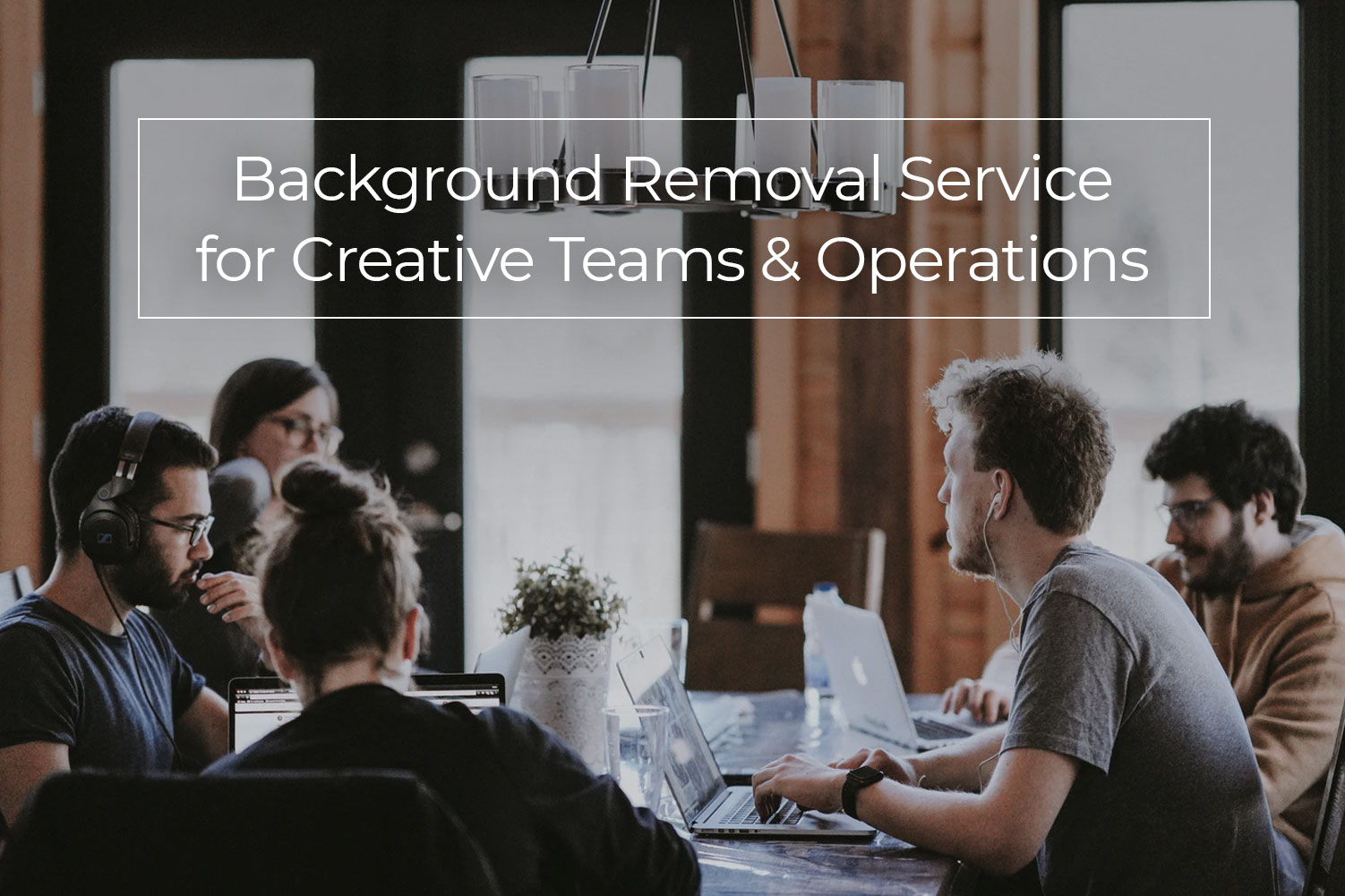 With the popularity of e-commerce sites, many industries are turning to photo editing services, such as background removal and clipping path for all product photo editing needs. If you are looking forward to improve the creative operations of your business, you must be aware that one of the easiest ways to do this is by outsourcing for a professional background removal service.
The question, however, is how to determine if it is the best solution for your creative operations? How exactly can you benefit from such service?
Let us review some situations that commonly occur in the e-commerce industry to understand the importance of a background removal in your business.
Lack of Capacity to Do Creative Workflows
One of the best indicators if your team needs to outsource for a background removal and other photo retouching services is when the team cannot simply put into action all the creative workflows that they have in mind. This is mostly due to the lack of capacity to do so, especially when there are plenty of retouching that is needed.

Our Team at Ephotovn.com
It commonly happens when the brand grows so big that the retouching teams cannot keep up thereby creating bottlenecks that stresses and overwork them. When the retouching work starts to pile up, other team members slide down in their operations since they will be waiting for the images to be ready. The creative workflow is disrupted, causing both wasted time and frustration for everyone in the team.
What happens when this kind of delays happen is that products do not get to be introduced to the public in time. Product launches are held up thus giving competitors a chance to make their introductions first. Failing to recognize this problem early gives the company two options: first is to outsource for a solution or; second, to attempt fixing the problem by hiring more people in the team.
Related Post: 5 Top Clipping Path Service Providers – [Review and Comparison]
On the first option, where a third-party help is sought, can fix the problem fast. With a third-party image editing service provider, everyone gets to do their jobs on time, never getting stuck on a bottleneck.
The second option, however, leads us to another problem.
Hiring More (Expensive) In-House Retouchers in the Team
Whether because of ignorance or due to fear of outsourcing for background removal and image editing services, a lot of team leaders follow their instincts of hiring new people in the hope of keeping up with the creative workflow and remove the bottlenecks. Unfortunately, it is actually an expensive mistake for the company.
It is incredibly expensive to hire a full-time retoucher thereby increasing the overhead costs. Scaling up the production team may increase the retouching capacity but it is hardly viable solution when you are trying to keep the overhead down.
Another point against in-house retouchers is that they are going to do repetitive work and their expertise is only limited on what they are asked for. If they are hired, for example, to do background removal for product photos, then that is exactly what they will do. The problem now is that there is more work needed to complete any campaign. This means that you also need to pay for someone else to help out with building the brand's visual identity. You also have to assign someone else to come up with marketing ideas.
When creating an in-house team for creative operations, you need one that can bring the most value to the company. It is a huge setback if you are paying for someone who can do more than editing photos. If you will have someone new to the team, it is better if he or she can spend time on delivering valuable services rather than doing repetitive tasks, such as removing and retouching backgrounds.
How to Remove Background of an Image in Photoshop
This is where outsourcing for repetitive tasks comes useful. Having someone else do the necessary edits for all product photos will afford the team more time to do more creative stuff for the company. It is also cheaper to have an image editing company to mind the photos than hiring someone full-time for the same job.
Racing for a Faster Turnaround Time
It is exciting to see any business grow. There's a certain rush that comes with seeing increasing sales, growing product offerings, and that palpable energy from everyone on the team. While it is great to bask in the success of the company, you also need to remember that it does not come without consequences.


Once a business grows, the demand also increases. Everyone must be conscious about deadlines. The marketing department is one of the most pressured teams since they need to come up with ideas to introduce new products to the market. The creative operations must be in full swing so that new product images are sent for uploading on time. While you want the best editing for the images as much as possible, you will also need the in-house team to do other essential stuff such as optimizing the images for the website specifications, conducting product photography shoots, and even pitching in fresh marketing ideas.
The race to have everything done on time is putting the company at risk of having rushed creative output. This can only be avoided if the company decides to outsource for help. Once a third-party photo editing service provider is hired, everyone on the team gets to do the most important stuff without worrying about equally important tasks, like professional quality background removal.
Inefficiencies that are Caused by a Growing Creative Team
As soon as the creative operations grow, more work is done by the team. Even the simple task of managing files can be a problem as there are more people who need to be updated about the spreadsheets, PDF files, and style guides that are essential to everyone on the team.
There is a possibility of having the wrong file names, lost files, and other related problems. This is an expected and cannot be avoided since the team has a lot of other things to do besides minding the file system. However, any mistakes at this point can cause big problems to the company. Any inefficiency in the workflow does not only disrupt the workflows but will also frustrate the team members.
With a professional company to take care of the image files, the inefficiencies are fixed since you are removing a huge load of task from the team. The most reliable photo editing company is efficient at getting everything more organized. This is because most third-party service providers are able to follow client specifications. There is no room for confusion because the company is very strict when it comes to naming the files, and organizing every order, no matter how many photos are there.
Third-Party Image Editing Solutions to the Rescue
As you can see, the creative operations of a company are deeply affected when there are not enough resources to help. Especially if the company is having a tremendous success online, you will all hands on deck to ensure that it stays that way for a long time. With a third-party provider to provide the editing needs for product photos, you will experience all the benefits that it comes with.
First, you are assured of a professional-quality treatment for any image-editing solution that you order. Everything is organized with regards to file management so you will have no trouble integrating the finished orders into the team's workflows. It is also a cost-efficient method since hiring a third-party to do the product photo edits by batch is cheaper than hiring a new full-time photo retoucher on your team. More importantly, with an image-editing solution, you are giving your team a huge favor by taking away a simple yet time-consuming task of editing photos.
Background removal can be easy for some of the team members but it will be best to reserve their time, energy, and skills to more important marketing stuff. You are not only doing the whole team a favor but you are, in fact, saving the company since it can result in a domino effect of win-win situations.
After the team have more time in their hands to hone the marketing strategies, they can immediately work on their plans because a third-party provider takes care of the photo editing task. Bottlenecks are removed and the team can even finish earlier than the deadline. This will help the company launch products ahead of the competitors.
An effective product photo editing solutions provider simply takes away the negative cycle that starts to show when the company can no longer keep up with the demands of the product photo editing needs of the creative department. By using a third-party solution, you make the operations lighter and all members of the team gets to benefit from it too.
Need Background Removal Service for Your Creative Team?
With years of experience in the industry, our team at Ephotovn is simply the best for a professional background removal and other product photo editing needs.
Subscribe for More Insightful Tips and Offers from Ephotovn.
Receive Special Offers and Deals From Ephotovn
We hate spam. Only receive our Newsletter for the latest tips, deals, tutorials, resources and guides.
Related Post