12 Sites to Download Free Wood Textures for Photoshop [2000+ Free Resources]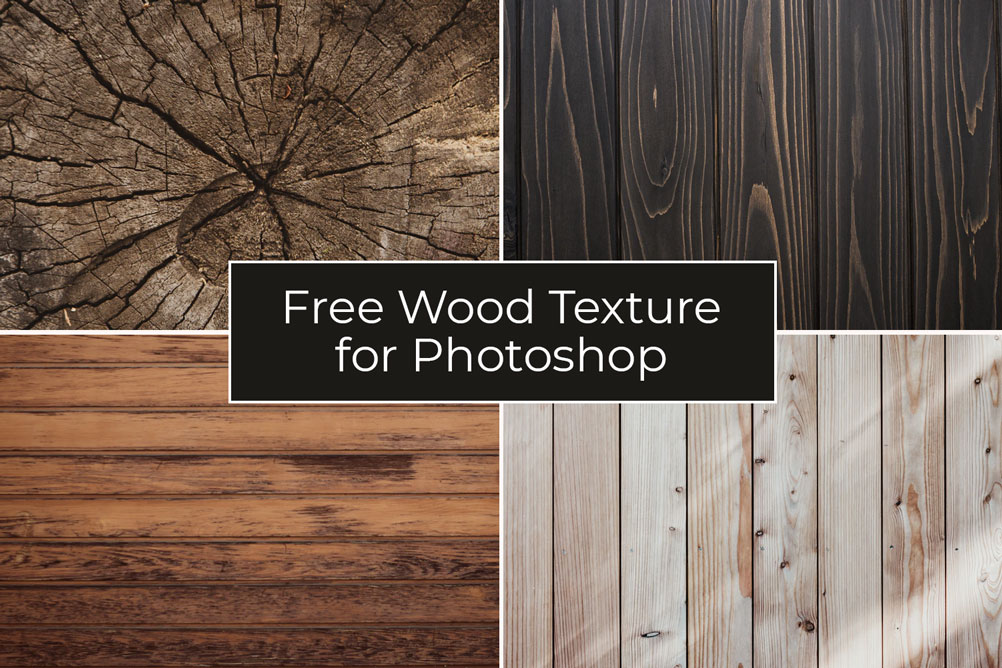 The use of wood texture for various projects such as website design, graphic design, and photo editing is becoming increasingly popular these days. Adding texture to any design makes it even more interesting. Wood textures add depth and character to anything and express an organic feeling. Making designs stand out more and is utilized in tons of applications. No matter what type of project you are working on, you can use wood textures to produce a more visually appealing designs. Fortunately, there's a lot of variety of wooden textures that can be downloaded for free and used in Photoshop. 
Related Post: 10 Sites to Download Gold Texture for Photoshop [300+ Free Resources]
In this post, we've gathered the best high-resolution, realistic wood texture packs that you can make use of. There is no limitation to being creative and taking advantage of this free resource. These realistic wood textures are definitely perfect for nature and outdoor-related projects. You can use them in websites, brochures, business cards, social media templates, branding/marketing assets and in any graphic design work free of use in commercial projects. 
1. textures.com
(over 300 free wood textures)
Textures.com is one of the best when it comes to offering wood textures of various categories to meet your needs. These are Palm, Pine, Stripped Bark, Fine Wood,Tropical and Deciduous Wood Textures, etc. The options on this site are numerous, and you won't have to search elsewhere. Imagine having access to over 300 wood textures from the categories. 
This website has both free and paid plans for subscribers. The free plan allows a maximum of 15 downloads every day. You aren't paying any usage fee or royalty. If you want to download more, you may have to upgrade to its premium plan. 
2. unsplash.com
(750+ wood textures to download for free)
Unsplash.com is another perfect site you can start exploring for wooden textures that will make your project look more professional. There are lots of options to explore in terms of choosing the right wooden texture which fits your project. 
Some wood textures you can download are Brown Wooden Board, Brown Wooden Surface, Brown and Black Area Board, Brown Parquet Board, Gray Wood Plank, Brown Wood Slab, Tree Trunk Surface, and more. The photos downloaded here can be used for both commercial as well as personal purposes. All images and textures here are free. There is no need for attribution, but it's always good to do so.
3. hongkiat.com
(50 with unique properties)
The wood textures you will find here are perfect for website designers and graphic design professionals. They are over 50 with unique properties. 
Some of them are Dark Wooden Background with Lights, Stained Wood Planks Texture, Wood Grain Plank Texture, Retro Decorative Backdrop, Wooden Planks Outdoors Texture, Weathered Outdoors Wood Texture, Dirty Wood Board Texture and more. The best part is that you use them as you wish. 
4. freepik.com
(1,900 different types of wood textures)
With over 1,900 different types of wood textures that you can freely use for your project, there is no doubt that you will never run out of options getting from this website. The free wood textures available here are highly customizable for any project of your choice. Although some of the resources are free, there some you may need to pay before downloading. Always make sure to check the free license of textures and backgrounds and attribution on the side bar.
Some wood textures include Natural Wooden Background, Timber Interior Texture, Wood Pattern Grain, Brown Wooden Flooring, Clapboard Wall, and Minimalist Light Colored Wood Background, and a lot more. 
Some of the wood textures from freestocktextures.com are pretty impressive. You'll probably get unique textures here that's really exciting to use. These are Forest Nature Bark Texture, Knotted Plywood, Floor Wood Oak, Wood Grunge Plank, Wood Grain Plank (close-up), Old Wooden Boards (faded), Round Wood Tree Trunk, Brown Wooden Planks and more. You will be getting a high resolution wood background from this website that has a Creative Commons Zero license. It means they can be used, edited or copied in any way possible without limitation. 
6. pixabay.com
(over 4,500 wood textures)
Pixabay.com is the home of high definition images. The best of all is that they are free to make use of both for personal and commercial purposes. This site gives you access to over 4,500 wood textures. 
You'll get to download on a great collection of wooden textures here such Lumber Wood Tree Log Texture, Wood Tree Spruce Picea Conifer, Chopped Wood (close-up) Texture, Vintage Wood Texture, Hard Wood Texture, Wood Board Texture, Texture Wood Grain, Pattern Wood Retro, Wood Board Battens, Wood Annual Rings Grain, etc. You can use them in any way. It doesn't matter whether you are searching for wood grain texture or wood floor texture as this site has got you covered.
7. rawpixel.com
(over 500 exceptional images)
What you will find here are quite different from the above websites because they are of the highest quality. They are perfect when it comes to making your design to be unique. You can download some of these images for free. Some textures available are Wooden Floorboard Texture, Rustic Brownish Wooden Texture,Pale Gray Wooden Textured Flooring, Grungy Wooden Flooring Textured Background, Black Wooden Plank Textured Background and more.
You will get access to over 500 exceptional images, which is a great number of wooden textures. Please note that its free membership will only allow you to use such photos for your own project. However, if you want to use them for commercial purposes, upgrading to premium membership is a good idea.
 
The wood textures you will find here are of different categories in terms of licenses. Therefore, you need to be careful while using them. For instance, there is free license, pro license and editorial use only.  Some of the textures, patterns and backgrounds that's free to acquire requires attribution. 
For sure you'll always find a high-quality wood texture to use in your project. They are available in a variety of colors and designs. The textures are: White Wood Background, Woodgrain Background, Wooden Laminate Texture, Grunge Wood Texture, Realistic Vector Gray Hardwood Planks Background, Tree Rings Vector Texture, Aged Wood Texture, etc.
Some of what you will find here are Engraved Wood Texture, Natural Texture, Dark Wooden Textures, Wood Grain Background, Weathered Wood Floor Textures, Bamboo Wall Textures, Wood Stick Texture, Tree Bark Texture, Burnt Wood Textures and more interesting and unique textures. 
You will always find the perfect wood textures on this platform which you can use for both commercial and personal purposes. But you are required to give credits to the site itself if you intend to use these textures for free. 
10. inscribemag.com
(over 27 free wood textures photos)
In case you are searching for how to draw wood texture, there won't be any need for such. This is because the free wood textures available here can be used for any creative projects you'll have. They don't only save your time but also make your projects look more natural. Some wooden textures you will be able to get here are Curved Raw Wood, Grungy Cracked Wood Textures,Wood Paint Textures, Seamless Wood Textures and more. Even if you are looking for vintage wood texture, this is the right place to find such. You will have access to over 27 photos to use in any way. 
The free wood texture designs here are over 500. The textures include Seamless Wood Textures, Oak Wood Textures,Dark Wood Textures, Grungy Wood Textures, Teak Wood Textures, Cherry Wood Textures, Pine Wood Textures and a lot more. You can use them for both personal and commercial purposes in your creative design projects. 
In Freecreatives, textures here are excellent to use, most of which are free. Users can download as many as they need.
12. psd-dude.com
(over 100 free wood textures)
Some of the wood texture designs you can get here are Dark Wood, Parquet Oak Wood, Painted Wood, Ruined Wood, Polished Wood, Rustic Wood, Blue Wood Background Texture,Flooring Dark Wood Texture Seamless and more. Imagine how awesome it is to have access to over 100 free wood textures to make use of in any project without limitations. 
Related Post: 10 Sites to Download Free Water Texture for Photoshop [100+ Free Resources]
Where and How to Use Wood Texture Backgrounds
Use Wood Texture as Image Background
Use as Backdrop – For stage decor, and other printed decorations
Use for Web Design
Use for Graphic Design – Banners, Flyers or Posters
Use for Packaging Design
Creating Vintage Wood Logo Effect
How to Draw Wood Texture in Photoshop
Conclusion 
Having seen the resources above, it is obvious that there are no limitations on making creative designs. When it comes to getting free wood textures for your projects it's now easy, because this list has been created for you to download to achieve a natural and realistic feel. 
Receive Special Offers and Deals From Ephotovn
We hate spam. Only receive our Newsletter for the latest tips, deals, tutorials, resources and guides.
Related Post