10 Sites to Download Gold Texture for Photoshop [300+ Free Resources]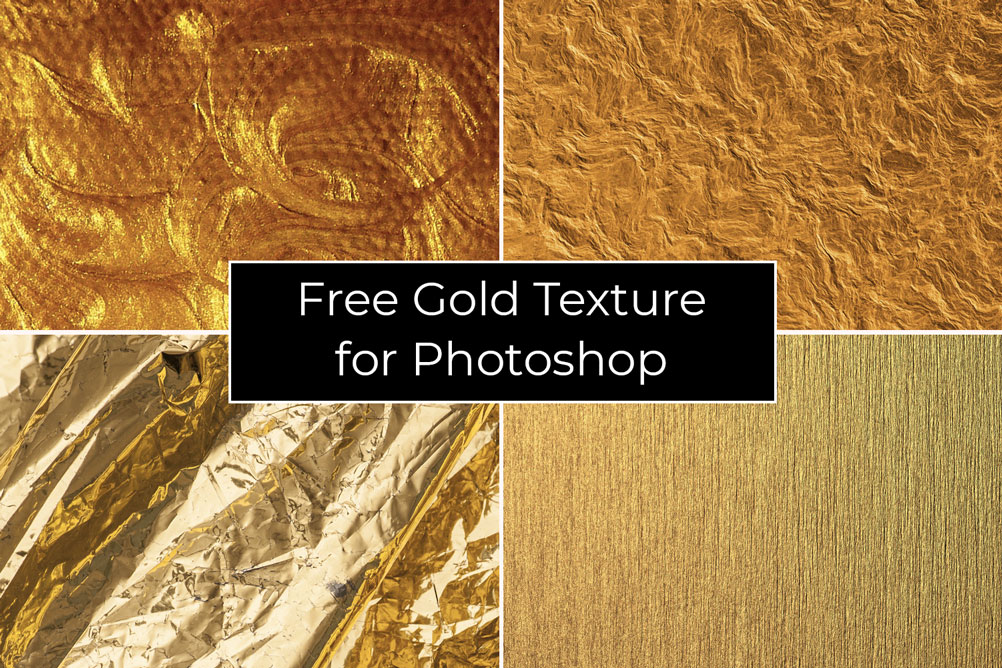 Gold texture looks great for digital products. It's been prominent amongst graphic designers, website designers and even photographers to use this in application for creative purposes. You will notice that most people are using it as a background for their images, branding, typography, and illustration, especially for e-commerce products. There's some elegance, luxurious and modern minimalist sense that goes with gold textures, that when used makes something look a little more extraordinary. There is no such thing as digital mitts with a plethora of free gold textures to work with!
Getting access to a quality gold texture that you can use for your project could cost you a little bit. And there are a lot of graphics design marketplaces to buy these textures. But there is a much better way to get them at zero expense when you know where to look from.
 
These are top sites where you can download gold texture designs for free.
With a site like freecreatives.com, you will get access to over 36 dynamic gold texture designs to use for any project. These could be Golden Glitter Texture, Gold Foil Texture, Gold Brass Texture, Seamless Gold Textures, Crumpled Gold Textures, Vintage Gold Textures and more. They are all available for instant download. If you want to create a gold background, these are perfect options to use. You can make use of them in any project (personal or commercial). 
2. thedesignest.net
(25 gold textures to download free)
Do you have a website or graphic design project that needs improvement? There is no better place to start getting some free gold textures than thedesignest.net. It gives you access to over 25 impressive gold textures that you can make use of to add some spark to any project. 
Some of the designs you will find are marble patterns, precious gold textures, Gold Glitter Texture, Close-Up Texture, Copper Gold Textures, Metallic Gold, Gold Paint Texture, Gold Foil and more. Although these are all free gold textures. If you want more textures, you can purchase premium bundles of textures and backgrounds.
This site gives you access to various gold texture designs to use on Photoshop and other photo editing software. They are perfect in case you are planning to do some background removal in your project. Some of the designs available are Vintage Gold, Cracked Gold, Grunge Gold, Wallpaper Gold, Gold Glitter text effects and patterns, etc. These all have a creative common license, which means you can use them in any of your projects. 
4. designbeep.com
(30 gold texture for photoshop)
Designbeep.com provides unique gold textures you will come across on this website. Perfect for professional and creative use such as flyers, and banner design projects. Some of the available free textures are Metallic Gold Textures, Acrylic Gold Paint, Gold Wrinkled Paper, Gold Sparkle Texture (Ribbon), Brushed Gold, Gold Glitter and others. Imagine having access to more than 30 shiny gold texture designs for free. There is no copyright limitation as to how you can use them. 
Do you want to create a breathtaking design using gold textures? There is no need to be racking your brains as this website gives you access to over 50 free gold textures that you can use without any restriction. Get these awesome and unique gold textures from various generous graphic design experts. Some of them are Gold Leaf Texture, Gold Metallic Texture, Gold Acrylic Paint, Wrinkled Gold Metal, and many more. Turn your designs into a masterpiece today with the use of these free gold textures that will inspire you to create.
6. darjanpanic.com
(12 high-quality gold texture designs)
Darjanpanic.com gives you access to over 12 high-quality gold texture designs that you can use for your projects on Photoshop. The best part is that you won't be paying a single dime before having access. These are metallic gold textures that will bring out your best work! 
This site gives you access to Gold Glitter Background, Metal Gold Textures, Gold Foil Texture, Watercolor Gold Background and there's also Rose Golden Texture to choose from. There is no doubt that you will get an excellent gold texture for Photoshop here.
7. designsrock.org
(45+ gold texture for photoshop)
If you want to add some creative spark to your project which clients will find to be very impressive, designrock.org is the right place to be. The gold textures you will find here are perfect for both graphic designers and web designers. It is one of the best websites that will give you free access to over 45 shiny gold foil textures. 
These will make a massive difference in your project. This gold texture collection is quite exceptional. You'll get a free download of Yellow Churning Gold Water Texture, Crumpled Metallic Gold Texture, Gold Coins Texture, Scratched Gold Metal Texture, Gold Paint on Canvas Texture and others. See more for yourself and start downloading them straight away and use it for either commercial or personal purposes. 
Creating state-of-the-art designs using gold textures is awesome to think of. Getting free access to these resources for free is even better. Designyourway.net provides you access to over 30 free gold textures free of charge. The golden backgrounds range from Smooth Gold Texture, Simple Gold Textures, Gold glitter, Metallic gold to unique textures like Stone Gold Texture, Curves Gold Textures, Gold Ribbon Sparkle Texture, Gold Bead Halo Circle Texture and a lot more eccentric gold texture designs to choose and work with.
9. unsplash.com
(100+ collections of gold textures)
With Unsplash.com, you will get access to over 200 collections of impressive gold texture designs. These are perfect for any design project you are handling at the moment. The best part about this website is the fact that all its photos and resources fall under creative common license. This means you can make use of them for any project you're working on, ultimately for free. 
Therefore, start downloading the gold textures here to add some life to your project. You'll see a lot of gold or golden images or glitter wallpapers that you can make as a pattern in Photoshop and use as background.
The gold texture options you will get from this site are second to none. Imagine having access to thousands of free gold textures which you can freely use for any project. These could be Gold Glitter, Gold Background, Silver Gold Textures, Rose Gold Background, Gold Wave Abstract, Gold Walls, Golden Foil texture and more. In case you are searching for how to make a gold texture in Photoshop, it will give you a handful of you awesome gold textures to be creative with.
Where and How to Use Gold Texture Backgrounds
Use Gold Texture as Image Background
Use as Backdrop – For stage decor, and other printed decorations
Use for Web Design 
Use for Graphic Design – Banners, Flyers or Posters
Use for Packaging Design
Apply Gold Texture to Font in Photoshop
Conclusion
Based on the websites listed above, you can see that it is possible to use high-quality gold textures without paying a single dime. It is all about knowing where to find them. With access to free gold texture resources available, there are no digital limitations for your creative mind.
Receive Special Offers and Deals From Ephotovn
We hate spam. Only receive our Newsletter for the latest tips, deals, tutorials, resources and guides.
Related Post