15 Best Photo Editor Mobile Apps of 2020 [Review and Comparison]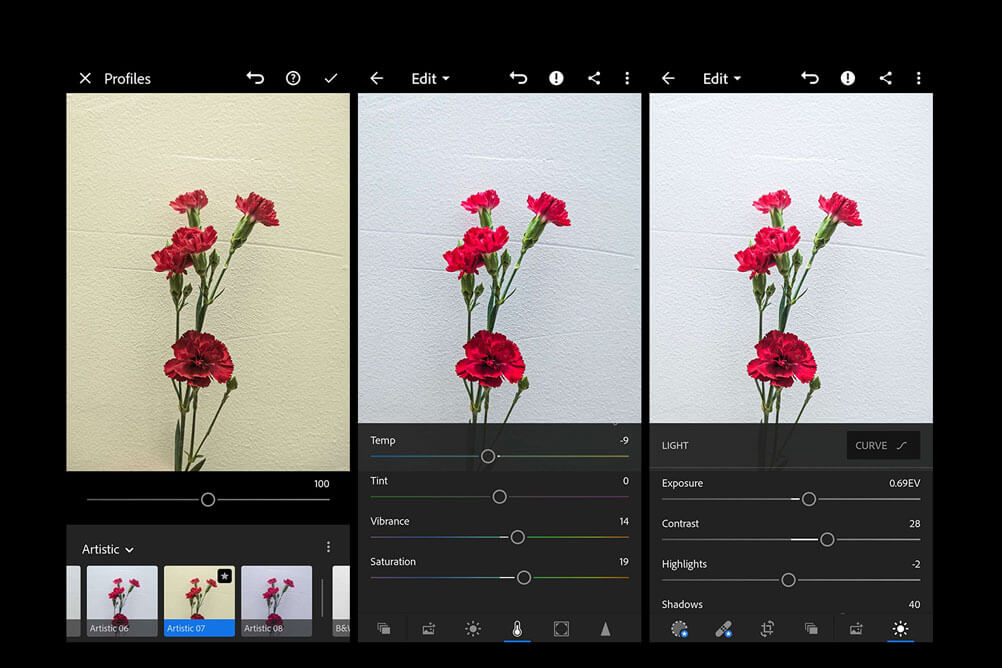 Digital photography has taken new heights for this generation, making it accessible to more people because of the advancement in technology. Years before, one can only take decent photographs using bulky cameras. Nowadays, all that you need is a smartphone and a bunch of photo editor apps and you will be shooting like a pro. In fact, many professional photographers are also using their phone camera to take a few snaps. You cannot blame them because most phone cameras come with built-in free editing software that can transform camera photos and make them look like a pro.
Related Post: 12 Best Photo Editing Software for Professional Photographers
Why Are Photo Editor Apps Important?
Although most camera phones already come with a free photo editor, the actions can be very limited. Some of them can only do basic editing tasks, like cropping, resizing, brightness and contrast adjustment, and applying filters. There are, however, a lot of photo editor apps that can be downloaded for both Android and iOS devices. Such photo editor apps can be very advanced in a way that it can be used to make edits that used to be done only in computer-based applications. There are even some that you can use while on the go as long as there is an internet connection. A photo editor online ensures that you can create the best photos whenever you need to. With an online photo editor, you can use it as a background remover, add special photo effects, and even download more filters.
Mobile photography has improved so much because of these photo editor apps and it greatly complements the current generation's love for social media. With a photo editor, anyone can have the best photos to post on social media sites.
Here are 15 of the best mobile apps that you must try if you are looking for either a free editing software or premium ones that can improve your mobile photography game.
1. Adobe Photoshop Express – (download app)
Available for iOS, Android, and Windows-based devices, Adobe Photoshop Express is loaded with advanced photo editing tools and filters. It is one of those pro-level photo editor apps that photographers prefer to use. What makes it so special is that the results will look like the photos were edited on a computer. There are also add-on packs that will unlock more effects and editing tools.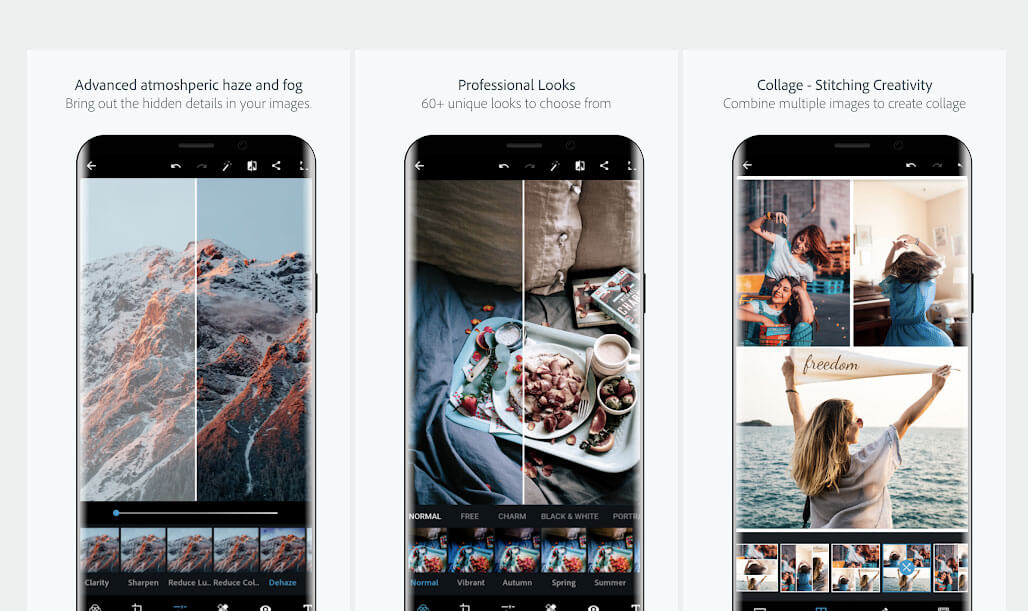 Photographers like it because it supports raw photos so they can edit photos in raw formats even without a computer nearby. What most users do not like about it is that the app tends to slow down when using advanced functions and filters. You also need to register first before you can start using the app.
Rated as one of the best iOS photo editor apps, VSCO gives you a multipurpose tool that is easy to use for all types of mobile photography enthusiasts. It comes with a good camera application which already has the necessary tools to edit the photos right after taking them.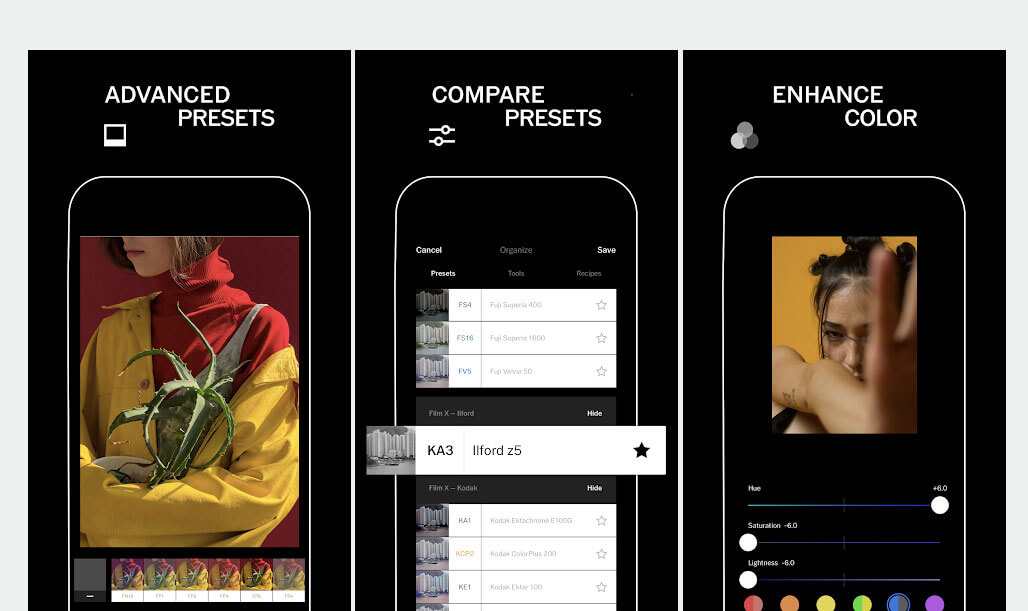 There is a wide range of effects available and it functions just like Instagram where you can share photos and albums on your social media accounts. It is a minimalist application so it is expected that you can only do so much from it. It is also unstable to use with raw files and 90% of the attractive filters are not free.
This classic photo enhancement app is popular among common social media platforms. It is designed to work with mobile devices and has quite an intuitive interface. The useful tools for image processing works just like any other photo editor apps. It allows the user to experiment with multi-exposures, creating collages, and applying various effects.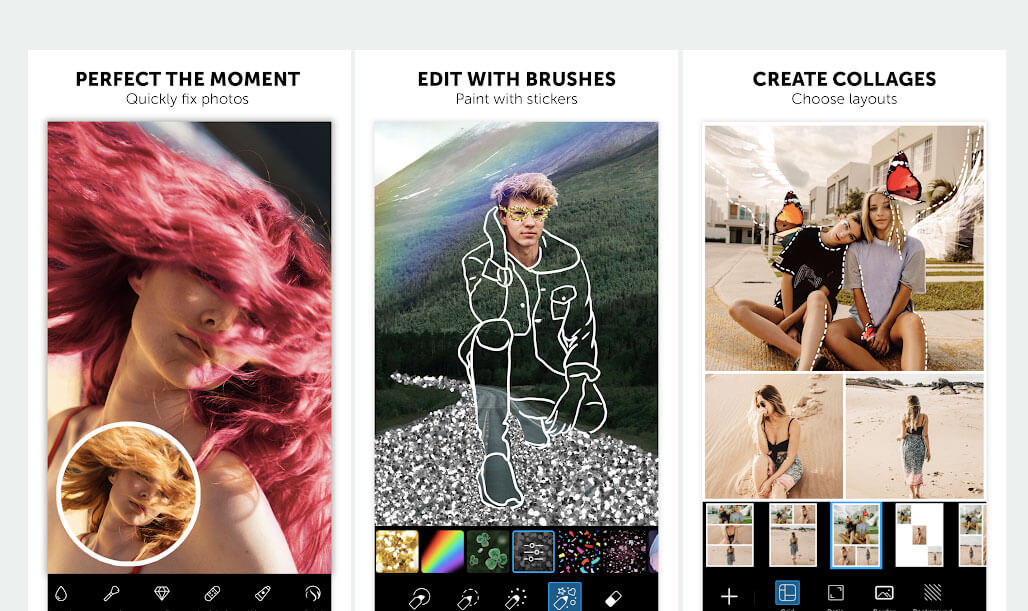 The camera application gives you a real time view of the effects that you want to use. Aside from a limited functionality for the free version, it also displays a lot of annoying ads. Many of its useful functions must be paid.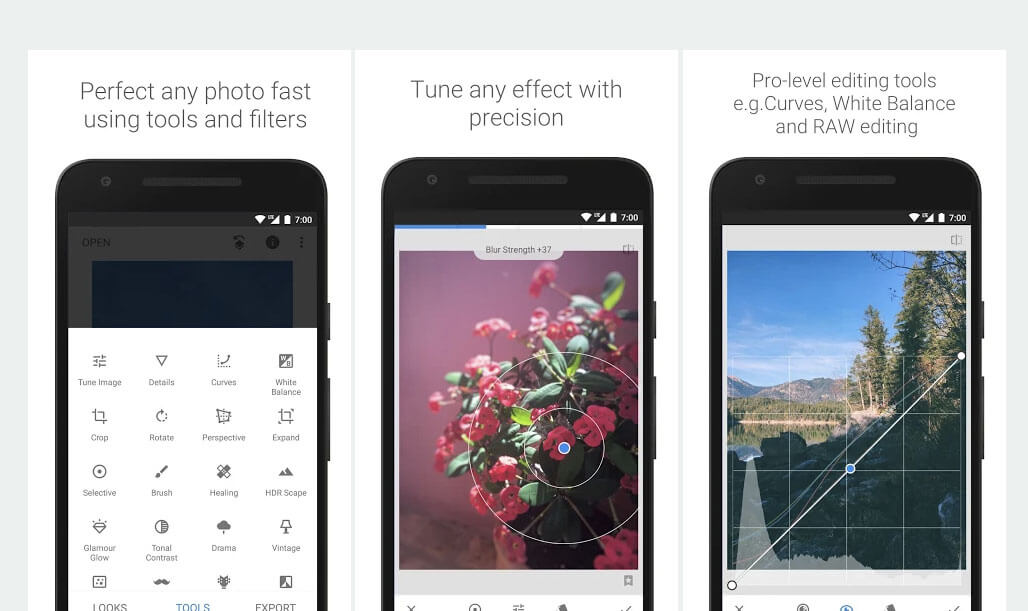 Google developed Snapseed as a body photo editor app. Just like most photo editor apps, it is intended to enhance ordinary photos and make them share-worthy on social media. Snapseed gives you full control on the variety of tools and effects. It supports raw formats and it automatically detects the genre of the picture and gives suggestions on possible tools that you can work with. Although it is convenient to work with, the photo retouching quality is not too impressive.
5. Adobe Lightroom CC Mobile – (download app)
Adobe Lightroom is a classic photo editor that works with raw files. The CC Mobile version is simplified so that photographers can edit their raw photos on the go. It comes with high-quality adjustment tools using simple sliders. It is easy to adjust different aspects such as light, grain, color, and other details.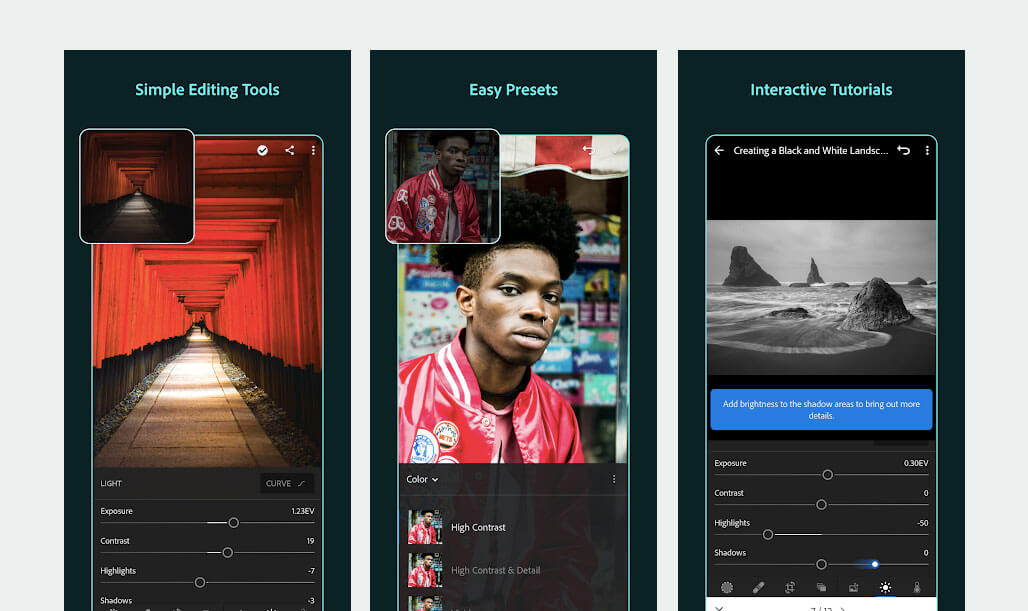 Although using Adobe Lightroom CC Mobile is free, it would cost a hefty $10 per month if you want to work on your photos in between devices. The Adobe Creative Cloud plan will let you use more features plus access to both Photoshop and Lightroom Classic.
The Microsoft Selfie app has a great feature called the Intelligent Portrait Enhancement. It literally makes beautiful portraits in one click. It automatically reduces noise when shooting on a dim light and corrects backlit photos with its auto exposure feature.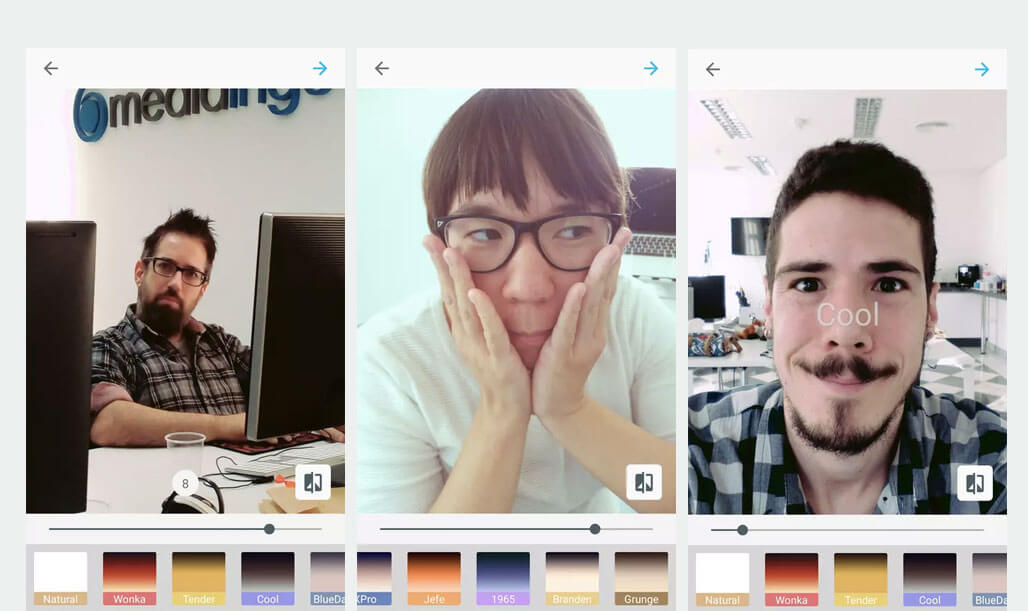 It is nice that it considers a lot of variables when enhancing selfies, such as skin tone, age, lighting, and even gender. It is undoubtedly one of the best photo editor apps but many people are bugged out that it is only available for iOS users.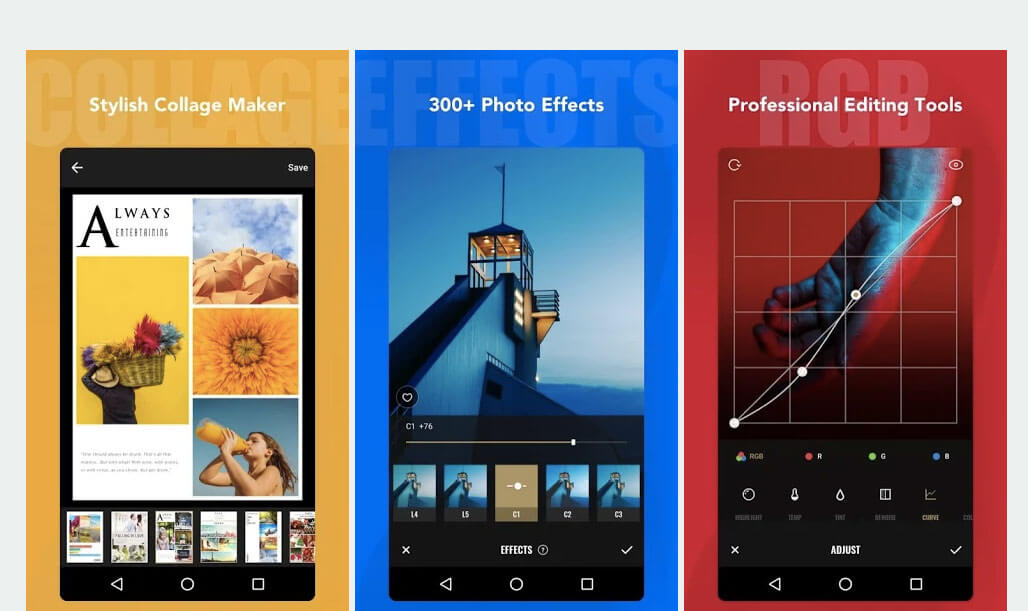 There are many amazing capabilities that one can enjoy in using Fotor. It is a fast editor for raw images and has plenty of tools for image enhancement. Photography enthusiasts will find the interface as nice and simple. It has almost all basic image editing and color correction functions that most people are already familiar with. A lot of the Pro-level functions, however, are not free and are only available for premium-paying users.
Those who like creative photo effects and filters will love the Bonfire App. There are plenty of filters that can create stunning effects for your photos. The free photo editor gives you access to 110 unique filters and effects that can literally beautify a failed shot.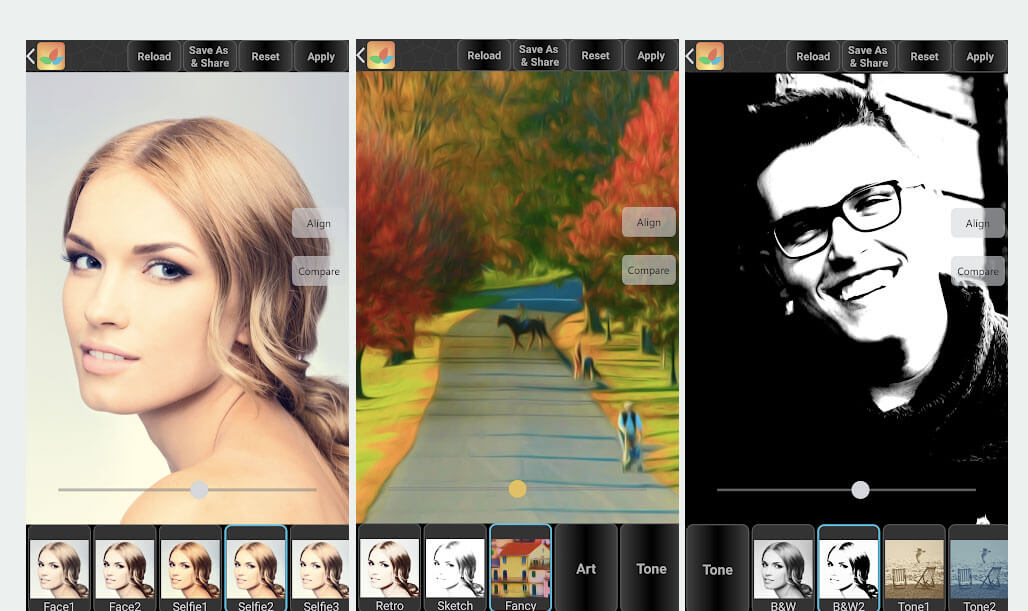 Flaws on the original photos will be instantly fixed using its automatic photo editing tool. What makes it disappointing, though, is that the app design is horrible and it is only available for Android users.
Some people use photo editors to create photo collages. Moldiv is one of those apps that create stunning collages from photos. There is a huge selection of collage templates and will allow you to process multiple photos in a single canvas. This is useful if you want to keep track of all the effects you are using so that the collage will have a cohesive theme.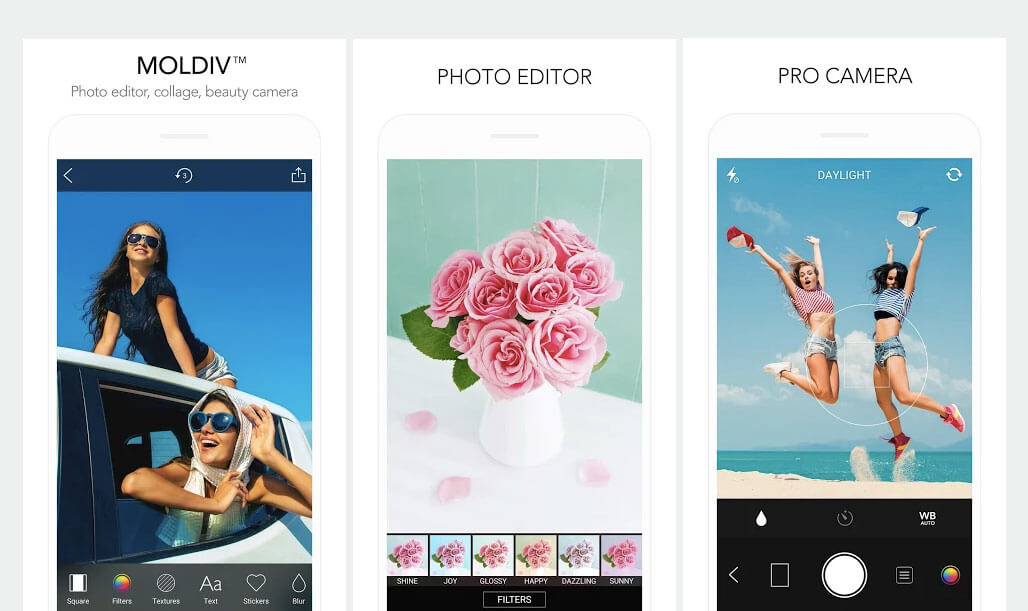 Aside from creating thematic collages, the app also has tools for correcting colors, use filters, add signatures and stickers, and share photos to social media. While it has plenty of options for photo editing, the quality is not good and the settings are too sensitive that it can be difficult to work with. It is better to edit the photos on another app then take the photos to Moldiv once you are ready to create the collages.
10. Enlight Photofox – (download app)
Enlight is great if you are willing to explore with new tools that are not too familiar on other photo editing software. There is a range of photo editing functions like using layers in combining multiple photos into a single photo, create your own collage style, apply overlay effects, and more.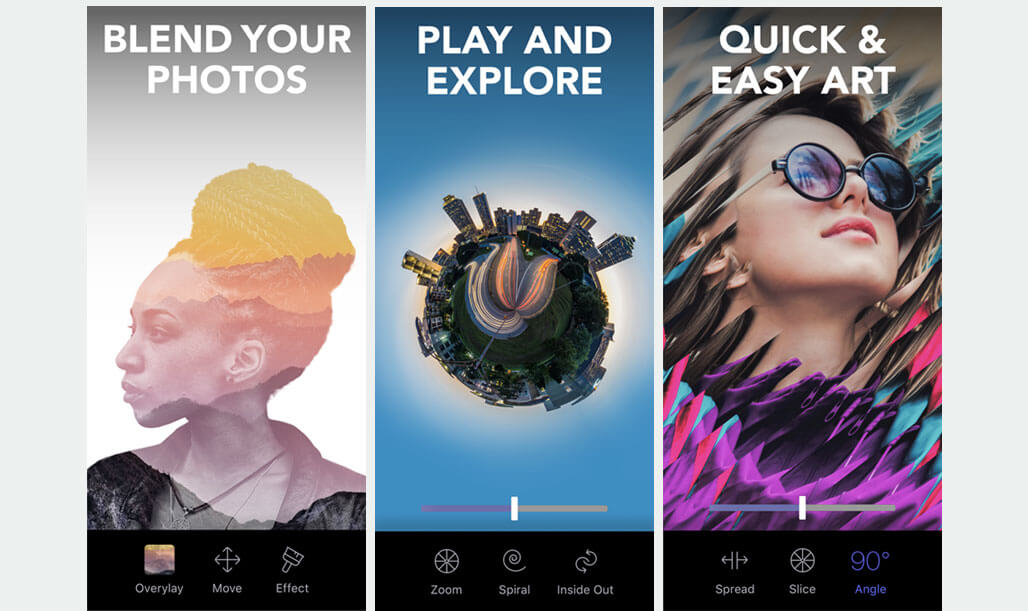 You can also edit photos individually, erase objects on the background, or transform the photo's size, transparency, and perspective. While it has a lot of options, it can also be confusing to use even if you had it long. There are too many menus and submenus to explore and it is annoying that little pop up ads show almost every time you click on a function.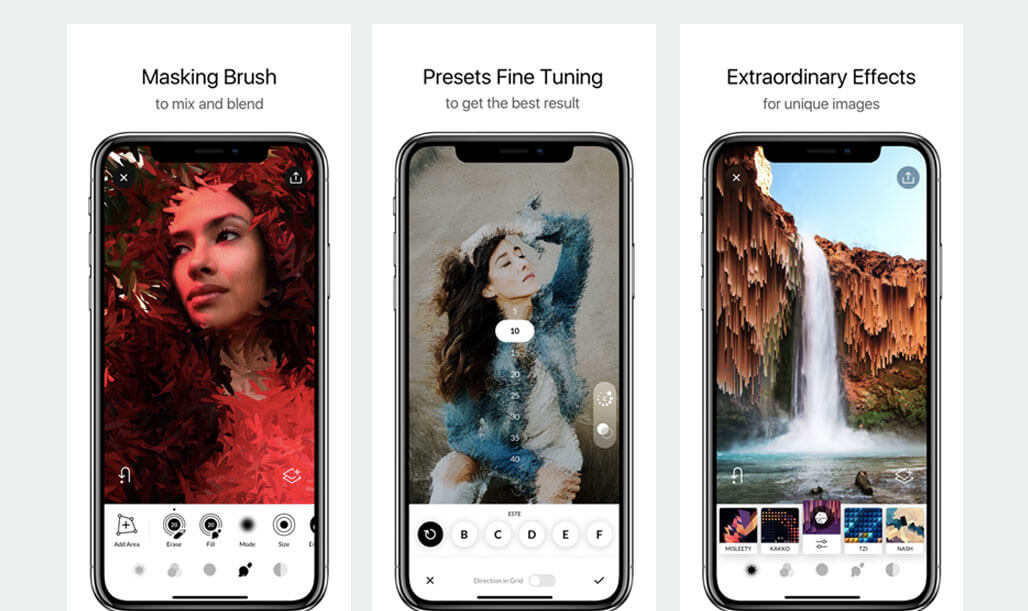 For those who like to make artful creations out of their photos, the Trigraphy app makes you create abstract art with its useful tools. It comes with 11 effects, 20 plus textures, and over 70 preset filters. It is easy to use and the results are truly museum-worthy. The sad thing about it is that it is only available for iOS users.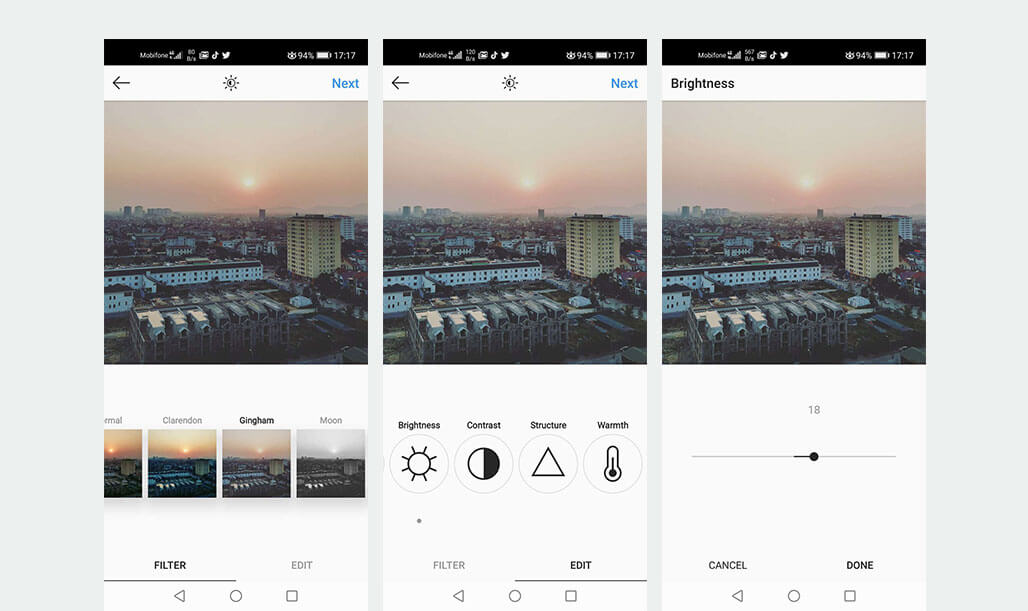 Although it is more popular as a photo-sharing app, Instagram does have a variety of tools that can be used to edit photos. In fact, it is one of the easiest photo editors to work with. It has straightforward functions to crop, adjust brightness and contrast, and apply filters to have stunning photos in a few clicks. It is a disadvantage, however, how it is very limited in terms of both functions and effects. You only get a handful of filters so it can be pretty boring once you realize that you are using the same filters for your photos.

For both Android and iOS users, Google Photos is handy as a photo and video storage service. It is tightly integrated with Google Drive which means that you can access your files from across multiple devices. It is a great app for managing a huge photo and video library. It is handy for quick edits but you cannot expect to perform advanced photo editing from the app. Also, higher quality photos and videos will use up a lot of your drive's storage.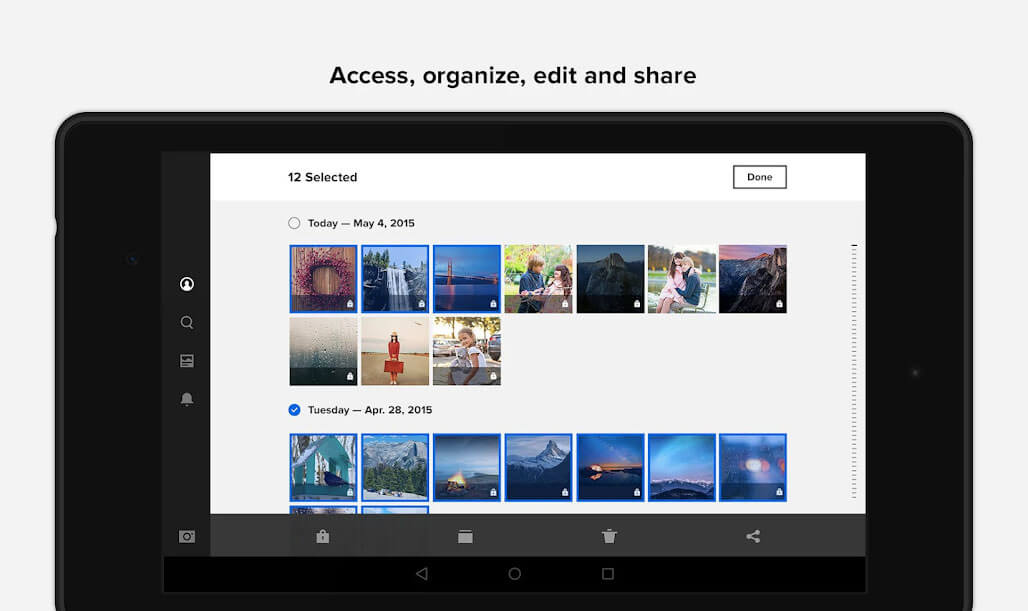 As one of the oldest photo editing apps, it is no wonder why almost everyone is already familiar with Flickr. Photographers are already using it since 2004 and more people have come to know about it when Yahoo! acquired it a year later. It lets the users do simple edits and gives 1TB of free storage. There is a need to pay for the pro version so you can enjoy an ad-free experience.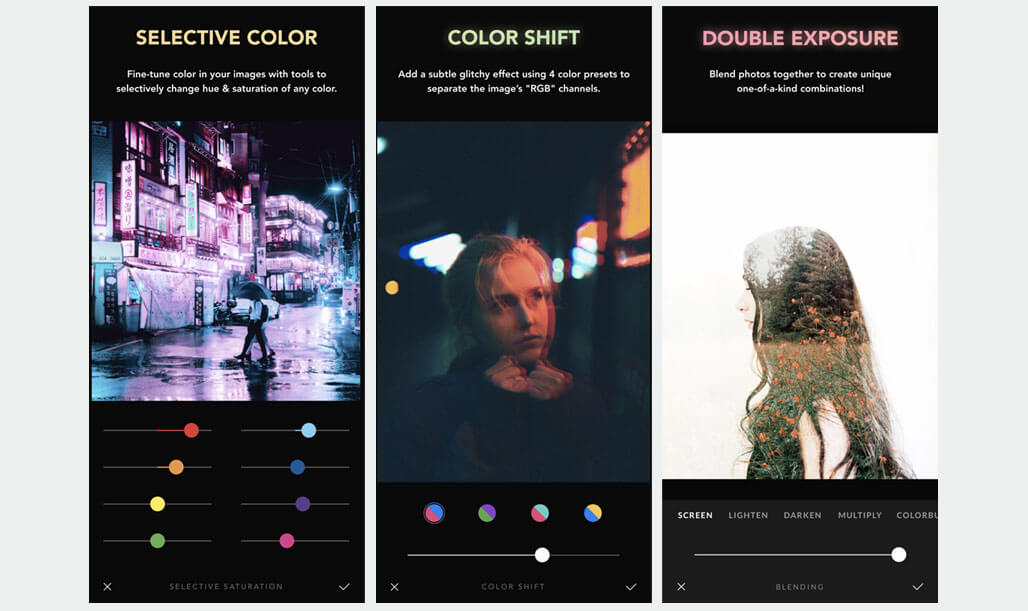 It is among the top choices for photographers because Afterlight gives a full-featured photo editing experience even on a mobile device. All the basic photo editing tools are present and there are built-in filters, frames, and raw format support. What makes it even better is that you only need to pay for the app upon downloading. No need to make additional purchases to use its features.
Mobile apps for editing photos can be helpful but the functions are really limited. You can only unlock the potentials of your photos with a trusty partner to edit them for you.
Need a Reliable Photo Editing Service from the Experts?
There is a variety of photo editing apps that you can choose and fifteen of the best ones are listed above. If you want, however, a more professional approach for your photos, nothing can beat the expertise of seasoned photo editors from Ephotovn.
Receive Special Offers and Deals From Ephotovn
We hate spam. Only receive our Newsletter for the latest tips, deals, tutorials, resources and guides.
Related Post