Why Choose Ephotovn for Professional Jewelry Photo Retouching Services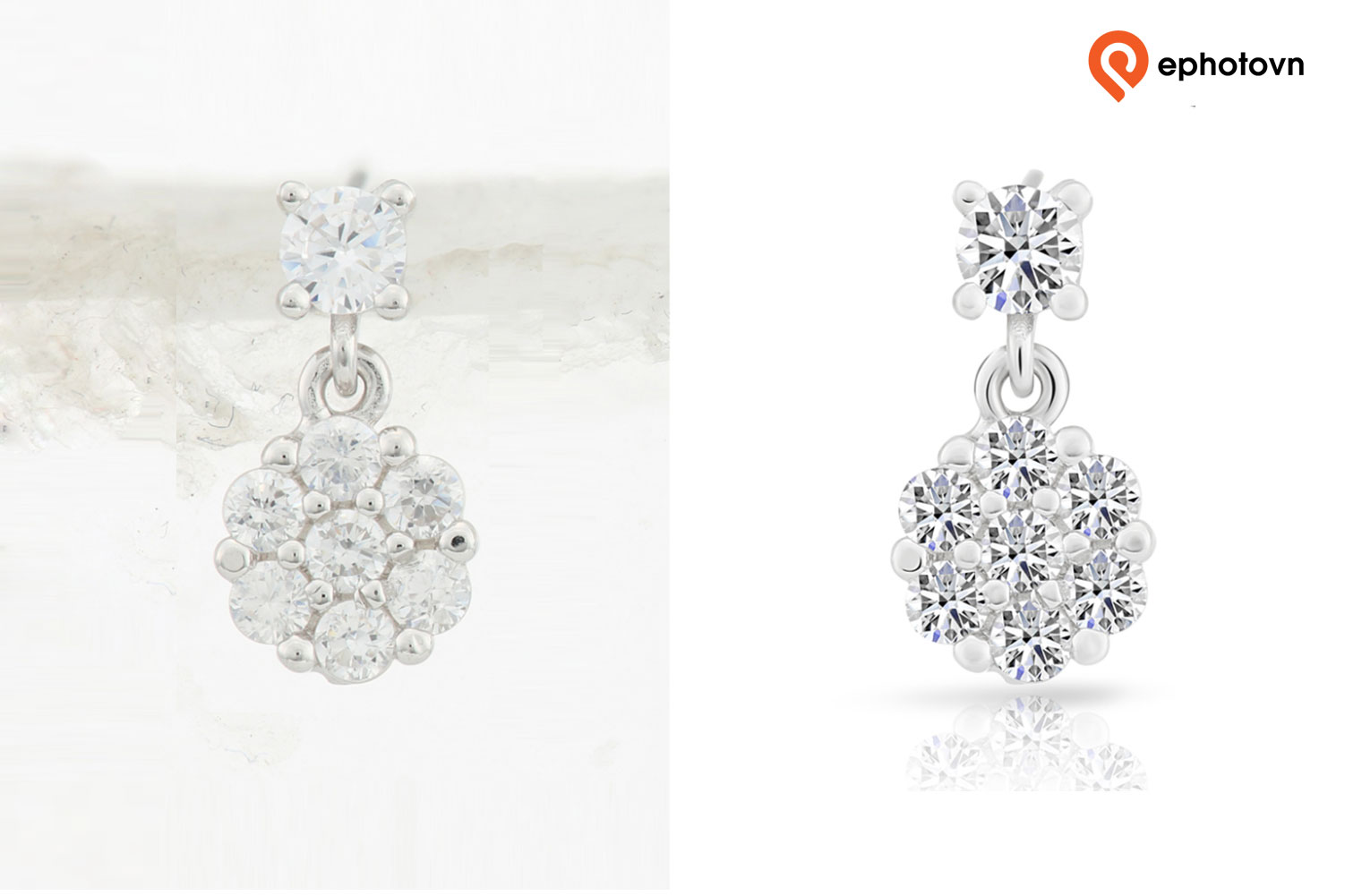 For photographers, getting to successfully photograph jewelry pieces for marketing, exhibition or promotional uses is always a daunting thing to do. They may face most frequent problems such as the right usage of ghost mannequins, the taking out of bad reflections from the jewels, removal of colour casts, dust and a lot of things. While it could be very difficult to capture jewelry's perfect picture, using professional retouching services for jewelry photos, could be helpful in taking out all the elements of distraction from the pictures while simultaneously improving the appearance of the jewelry in the photo.
Naturally, a dark and gloomy jewelry photo will not be able to attract any buyer. Furthermore, people lack confidence in buying any piece of jewelry that does not appear attractive to anyone. Typically, retouching of jewelry photos enhances luxury products like necklaces, rings, bracelets or earrings in the photo. It simply makes them increasingly attractive and eye-catching. Jewelry photo retouching services are highly applied for commercial, e-commerce and marketing purposes.
Why Jewelry Photo Retouching Services are Needed?
After you have spent a lot of money in trying to get your piece of jewelry photographed, the next line of action for you, is to make your customers easily notice the picture and fall in love with it.
As soon the programming is done, you will need jewelry photo retouching services to improve the general quality of the images. Due to the fact that the colourful gemstone often reflect light a lot while their facets lead to unwanted blur. When doing the photography, a good lighting positioning and furthermore, a professional post-production adjustment are important to eliminating blurriness from the picture.
Ephotovn Simplifies any Jewelry Photo Editing Job
Bracelets, rings and necklaces are unable to stand upright without being supported. Their photos only become genuine and practical if someone wants them or if the pieces are propped up against an object. Photos that include models wearing these pieces are nice, however, several clients will prefer to have flawless photos of these pieces without anything to take away the focus only on the jewelry.
The team at Ephotovn makes use of colour and light to ensure that the jewelry shines brightly, making customers to have their eyes fixed on the jewelry piece – be it with a picture model or without one.
Premium Photo Retouching​ at Pocket-friendly Prices
You could have a great idea as soon as the photo shooting is complete, or you could have noticed that the angle of shooting does not bring out the best out of your jewelry pieces. In these scenarios, you can rely on us to give life to your creative vision.
The following are jewelry photo retouching​ services that we offer at a very affordable price.
Creation of Jewelry Shadow
Shadow adds a bit of depth and dimension to an image in two dimensions (2D image). It takes an eye that is experienced as well as an expert knowledge level of the tools in Photoshop to create shadows which increase the appeal and reality of jewelry photos.

Removal and Cleaning of Background
Sometimes the most painstaking cleaning will not necessarily mean that a jewelry piece will appear properly polished on a photo. You could still have scratches and smudges which can diminish its attractiveness, be it on screen or in print. With our photo retouching expertise, we can easily solve this little problem.
Removal of Poor Reflection and Dust
In addition to flaws which appear on the jewelry as well as the setting, distracting reflections and dust could also cause your photos to lose their advertising potential. You can expect our team to scrutinize very part of your photos and get them ready to be printed or posted on your website.
Editing and Colour Correction
When the lighting you are using for the shooting is not really up to standard, our professional post-production will make everything look pretty nice and attractive the way you need it to be. With Ephotovn jewelry photo retouching​ services, your photographed jewelry is given the perfect shade, brilliance and colour.
Enhancement of the Jewelry Photos
From the jewelry texture down to the stones' sparkle and shine, the product of a photo must serve to convey its true appeal and value. This can be achieved by the image editing service which we do for photos.
Digital Masking
Subsequently, the cuts are then inspected by our team to see the method which we can use to enhance it – either by clipping path or clipping masks. They can be selected one after the other for painting over or brightening up.
Why Ephotovn for Personal Jewelry Retouching Requirements
Our expert jewelry photo editing team works efficiently to present clear images of precious stones and gems. They also work to maintain constant sharpness and colour, take out all unwanted scratches and marks that have been captured during the photographing of the jewelry. Apart from that our in-house designers focus on achieving a genuine expression of premium jewelry plus clarity and natural colour.
Let Ephotovn be Your Trusted Partner!
We guarantee that the images' natural light shall be retained to enhance the visual experience of the customers through the jewelry photo retouching services which we offer.
Receive Special Offers and Deals From Ephotovn
We hate spam. Only receive our Newsletter for the latest tips, deals, tutorials, resources and guides.
Related Post