7 DIY Tips for Effective Furniture Product Photography
Furniture product photography uses specific techniques that will showcase different kinds of furniture in an attractive way. When you get to produce enticing product photos, you get higher chances of making potential buyers complete a purchase. Remember that despite how sophisticated your website is or how sturdy the furniture you sell is, the visitors are first inclined to the visual elements and not what you write about the products. Since photos are a key part of the buying decision-making process, it must be your priority to present images that will maximize engagement.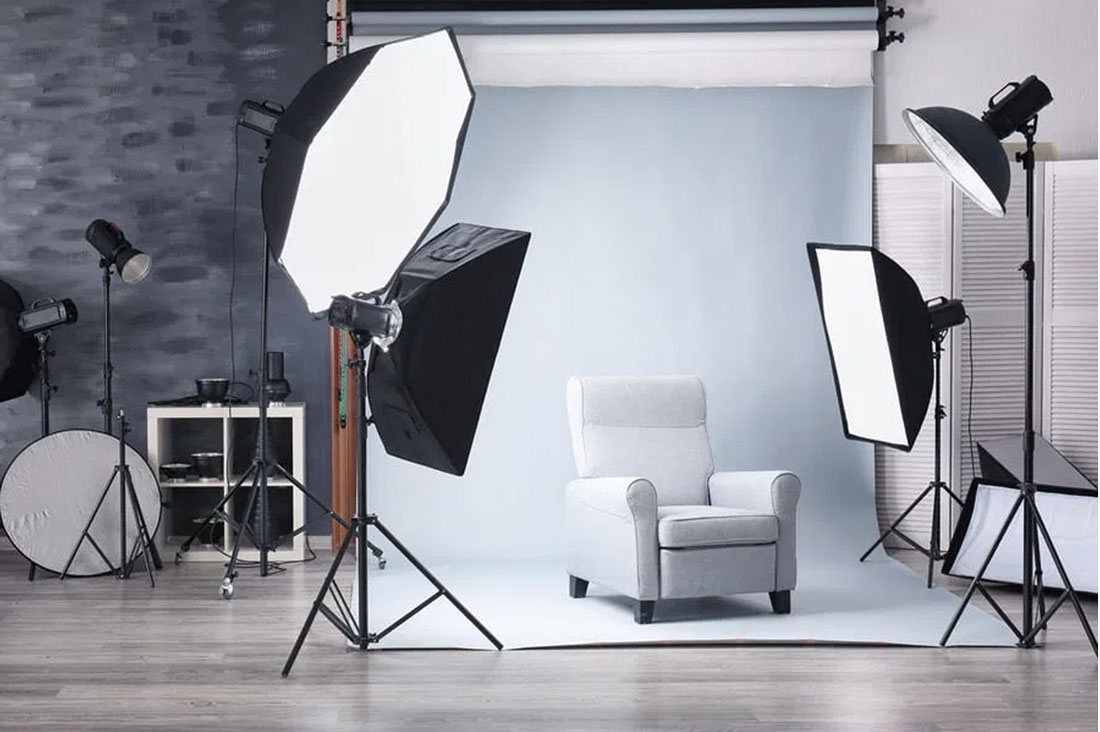 Related Post: How To Photograph Eyewear For Ecommerce And Online Stores
Here are essential tips to make successful DIY furniture product photography:
1. Groom the Furniture
Preparing the product is always the first step in any kind of product photography. With furniture, you need to see to it that all tags are removed and the upholstery is in pristine condition before anything else. It should also be polished to perfection whether the furniture is made out of wood, metal, leather, or any other materials. Assemble each piece hours before the shoot so you will have more time to build and prepare them. If you are going to shoot for secondhand furniture, never try to hide the imperfections on each piece. Fix everything that can be fixed but leaves those that you can't as is and show them on the photos. This will keep the product photos accurate, increasing customer satisfaction.
2. Set Up a Shoot Location
Furniture tends to demand a lot of studio space so it would be best to have a large room intended only for the shoot. It is ideal to have a white or any subtle background and a lot of natural light from windows. Of course, you can also use artificial light as a supplement if you think you are not getting enough natural light. If the wall is not suited for a background, you can use paper or white fabric to create a seamless backdrop. This will eliminate ugly shadows upon shooting.
3. Choose the Right Camera Lens
Most cameras have macro and wide-angle lenses that may distort the true shape of the furniture that will be difficult to fix even with photo retouching services. This is why when doing furniture product photography, it is recommended to use special lenses that will allow minimal distortion, keeping the furniture pieces appear as accurate as possible. A versatile lens with a range of 50mm to 75 mm is ideal. A prime lens with a 24mm-70 mm is even better as it will let you zoom in and out of the frame even in a small area. Keep the furniture in full focus by having an aperture of above f8, preferably at f16.
4. Keep the Camera Stable
Unwavering and blurry images are not acceptable with furniture product photography. E-commerce photo editing can fix minimal blurring but it may risk affecting the photo quality. Avoid unnecessary camera movements by using a tripod with your camera. Aside from keeping the camera steady, having a tripod also allows consistency with every shot. Avoid aiming the camera straight on the product. Instead, set up the tripod straight but tilt the camera slightly down so you can include on the shot the important aspects of either the seat or the back portion of the furniture.
5. Do Not Overdo the Styling
Plain-looking furniture is not aesthetically pleasing so you feeling the tendency to style for furniture product photography is perfectly normal. You should not, however, get too hyped up that you get to over-style the pieces. Adding a few greens with pots and flowers is nice and also using small cushions and drapes. And that is it! Not being able to control yourself with how you style the shoot could end up disastrous. Not all customers like a certain styling and you may risk creating a distraction if there are too many props used. Keeping it neutral will give them more room to imagine how they would style the furniture and will also reveal more details on each piece.
6. Shoot Multiple Shots From Various Angles
With any e-commerce photography; quantity is preferred so instead of having only a single shot of furniture, take multiple shots from different angles. Even the best photo retouching and editing services cannot magically recreate photos so you must be able to have plenty of shots using different cameras and light settings. Also, taking a lot of photos will increase the probability of having perfect shots so never settle for only a few.
7. Optimize in Post-Production
The final step in furniture product photography is the post-processing of images. It will go a long way if you know simple editing skills such as clipping path and background removal to optimize the presentation of the product. With post-production, the goal is to keep everything natural but be able to remove distractive elements. Dust, fingerprints and other similar marks that should not be in the photos can easily be removed using Photoshop. Too many reflections on the furniture's surfaces can be softened too to make it look cleaner. You may also edit the photos to have realistic shadows and other subtle effects.
Product photos are not there only to show the quality of a product. They serve as windows to an e-commerce store where transparency and trust must be created. When you are doing furniture product photography, the goal is to create a positive first impression. You have the above tips to produce product photos that are engaging enough to convert views into sales. If you find the job too difficult or you simply do not have the time to do it correctly, then you have the option to have a product photo editing services provider to help out.
Related Post: Why And When You Should Outsource Photo Editing Services
Ephotovn is the best when it comes to product photo retouching, including furniture product photography. The range of skills by the whole team is enough to create polished and professional-quality results that let you save time, effort, and money.
Need final retouches and editing for your furniture photos?
Let Ephotovn's team of expert photo editors do it for you.
Receive Special Offers and Deals From Ephotovn
We hate spam. Only receive our Newsletter for the latest tips, deals, tutorials, resources and guides.
Related Post