Summer – 8 Free Lightroom Presets Perfect for Tropical & Travel Photography

Do you love traveling? Do you love capturing the sun, beach and coconut tree scenes? Get your summer island vibes on! with these warm and summery Free Lightroom Presets for landscape photography for now.
What is a preset?
Presets are made to make your editing life easy. Photo editing on your computer is great when you have enough time to sit and make adjustments. With free lightroom presets you can edit fast and easy, anywhere and upload images on the go.
If you're always up for an island adventure, or just want to relax and walk on the beach, take pictures, chill by the pool and pose for photographs, this collection of free lightroom presets for landscape photography will be perfect for your island life or your weekend getaways somewhere tropical.
Below is a stunning compilation of 8 Free Adobe Lightroom presets for portrait and landscape photography made exclusively by Ephotovn that will make a difference on your travel images and adventure photos. Learn how to install lightroom presets and start using them. 
This could be the best landscape lightroom preset that you could download absolutely for free. DOWNLOAD SUMMER FREE PRESETS HERE.
What these Presets can do to your images?
Consistency of Theme or Style. – Each photo is captured differently especially when the scenes and lighting differ. And if you edit every single one in a batch, you'll end up with a collection of photos that lack consistency. By adding preset to all of the photos, which is defined as premade adjustments and setting effects on Lightroom, you can start tweaking and customizing where it's needed.
Batch Editing. – Because editing settings on a specific collection has already been designed to show a consistent style. You will then have a batch of images that display the same tonal theme that will resonate throughout all of your images. Even if it means they all have a different saturation or contrast or different shades of green, your batch of photos will tie in together nicely.
Time. – Will all the adventures, travels, flights and moving round presets could save you ample time with regards to editing your images one by one. So you could enjoy more.
Lists of presets we are giving for FREE
This Summer Collection of lightroom presets for landscape & travel photography has been crafted to improve images with scenes on the pool, beach, island, hike, jungle settings and of course portraits that come with it. These 8 varieties of styles in this collection are just right to suit the ever changing scenery, lighting and landscape a traveling person or photographer comes to expect.
1. Summer – Soft Sunset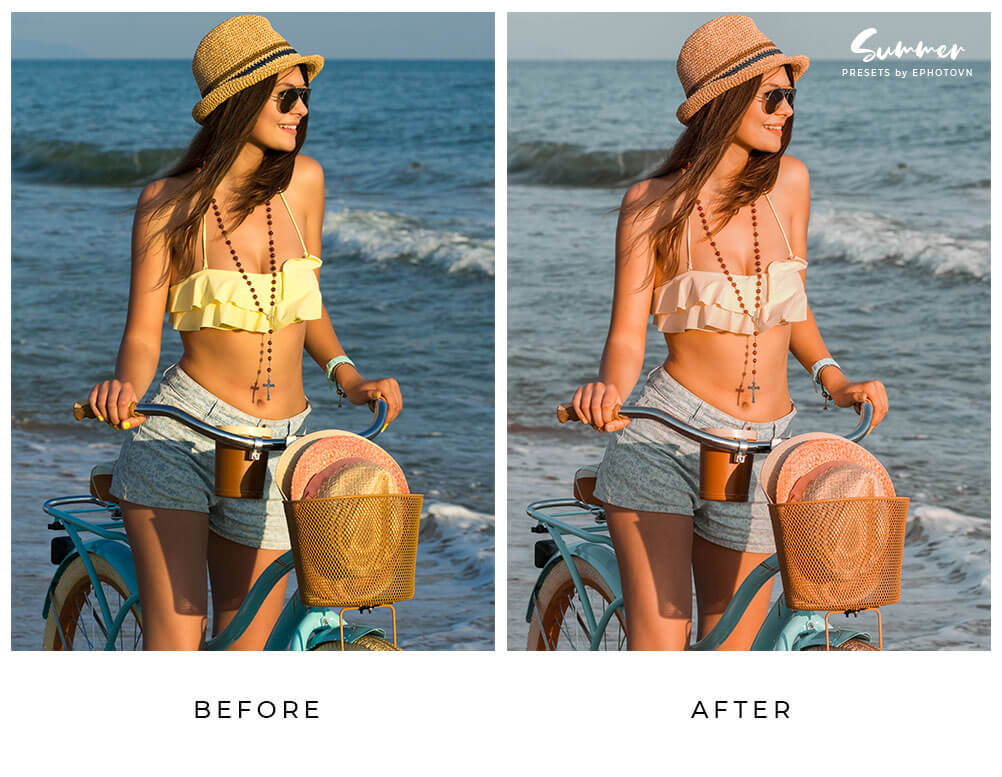 This preset is perfect to use on images where the subject is facing the sun and the camera is getting a lot of light from it. Applying this effect will turn your photos into a dreamy warm sunset scene with a soft finish we all want to have. Try using these on pictures or images taken during sunsets! You'll see why.
2. Summer – Beach Escapade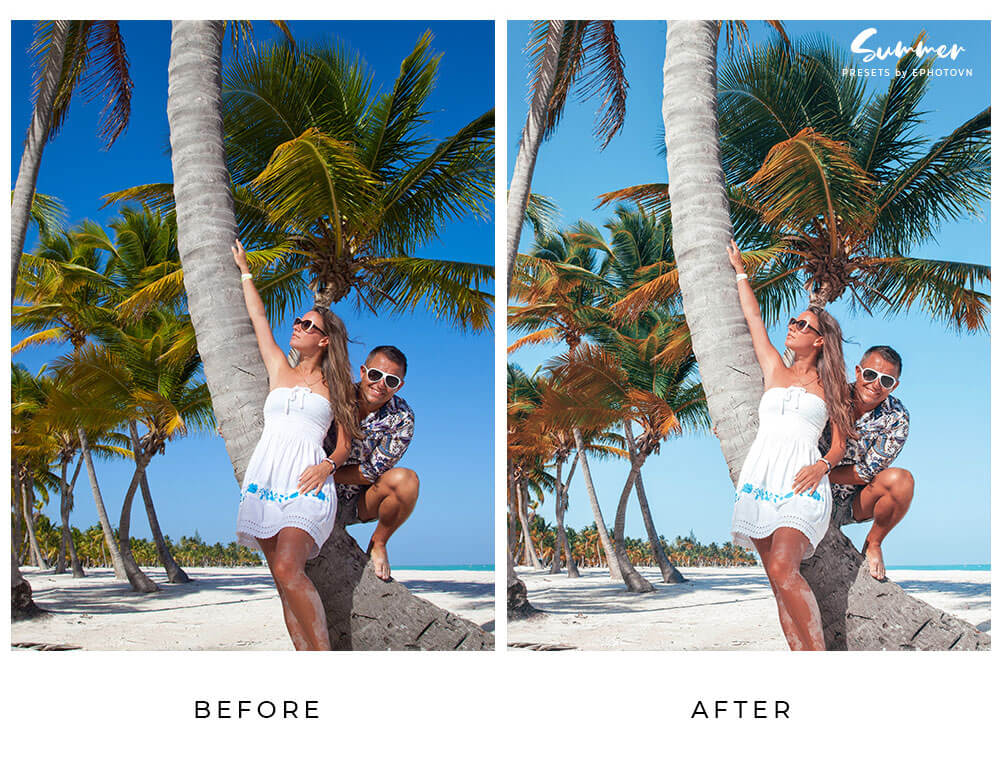 This preset has great consideration on green and blue hues. This is absolutely on point when there's a lot of vegetation around especially on capturing tropical landscapes. Which is great when you don't want the coconut trees, etc. looking brownish and dry. Also get that perfectly tanned looking skin. This free lightroom preset will look stunning on your summer travels.
3. Summer – Summer Getaway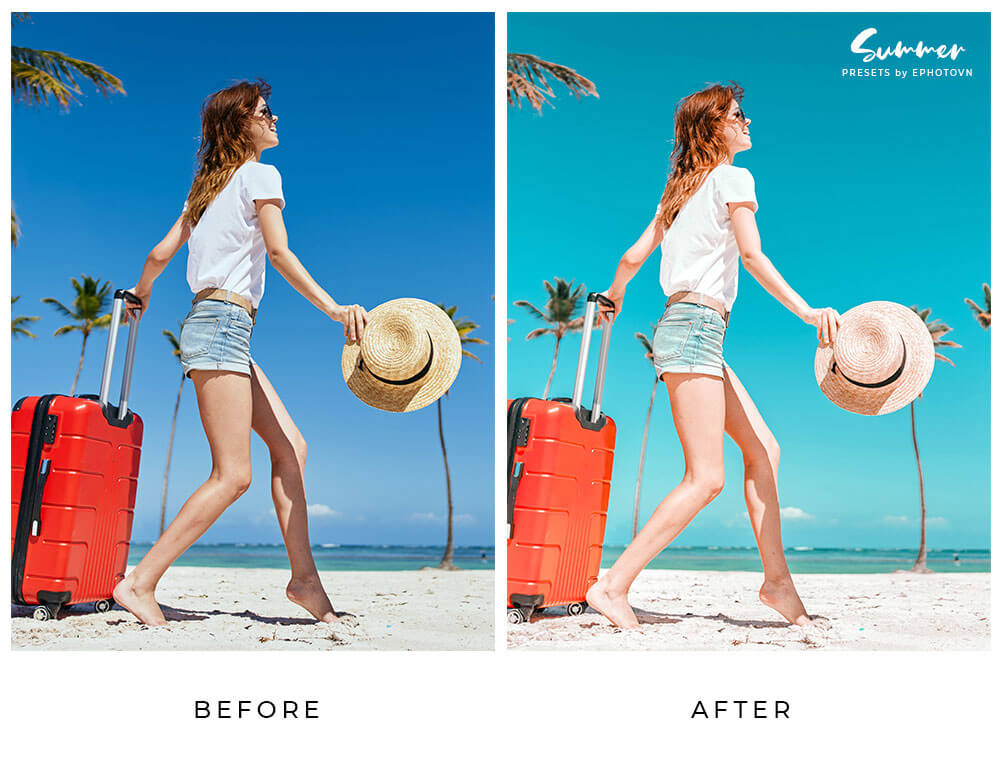 This free lightroom preset is awesome specifically on images with great natural lighting.  If you want your travel images to pop colors, look and feel editorial, this is a must use. You're welcome! This effect also applies turquoise colors on anything that's blue which is also great on portrait images with sea and sky backgrounds.
4. Summer – Island Girl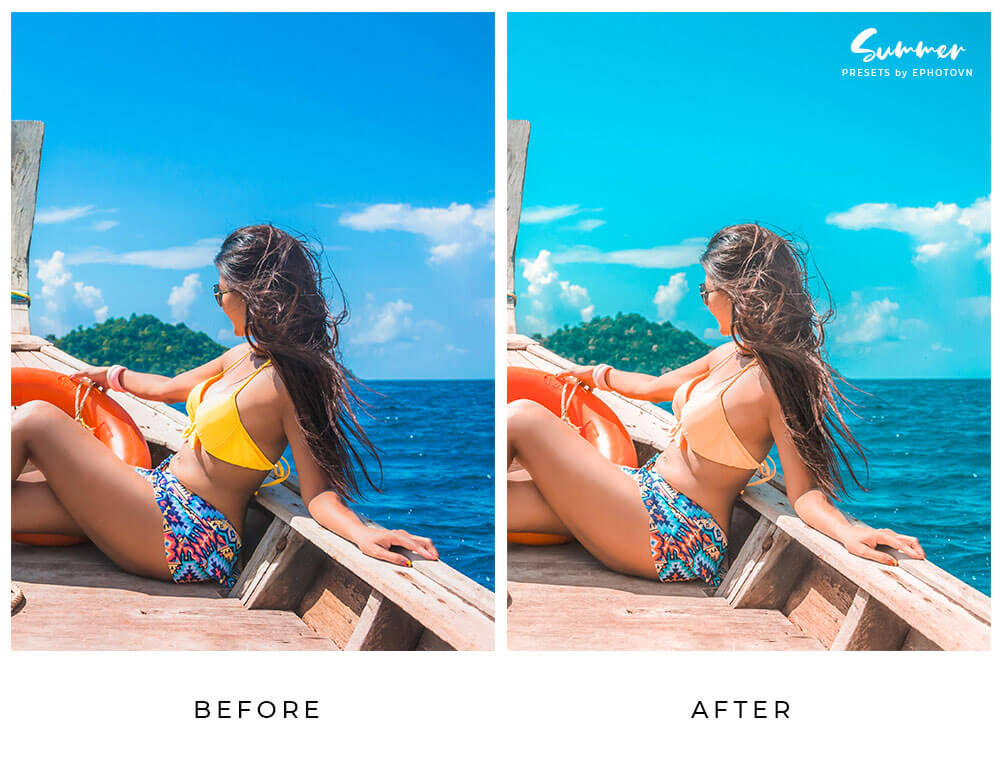 If you like vibrant but subtle looking photographs, this is the best free lightroom preset for you. This effect is excellent on bright summer tropical colors. And emphasizes subtly on the skin and again great for water shots and landscapes. Warmer yellows mixed with teal blues create that sunny beach tone.
5. Summer – Green Tropics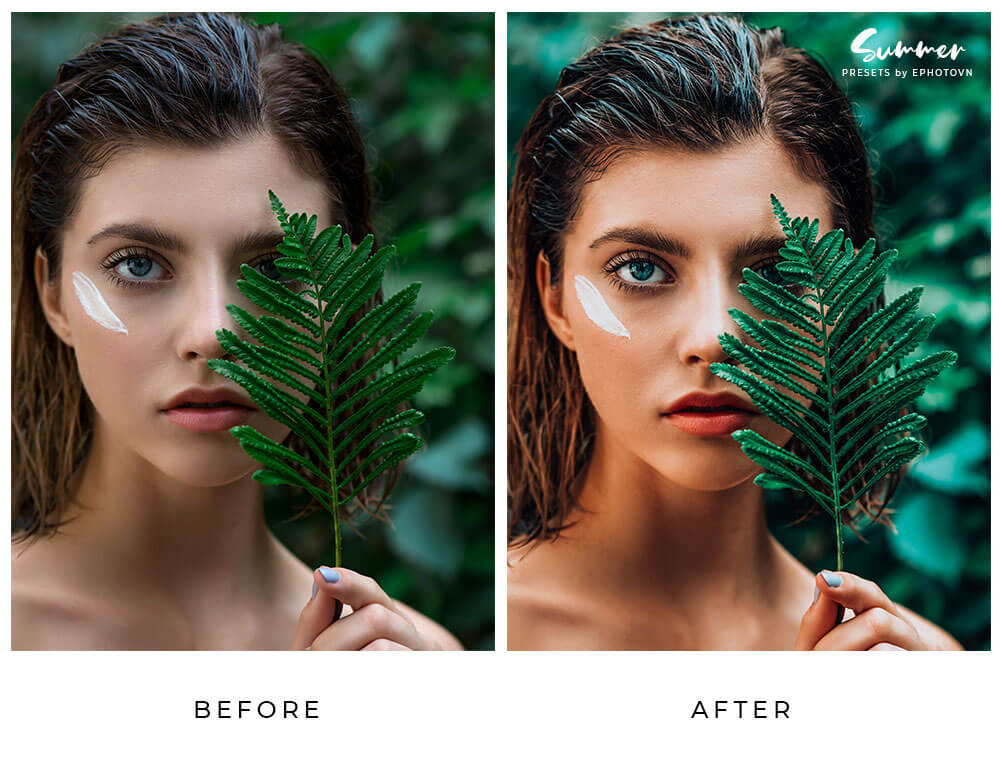 This preset applies vibrance on images with dark light and contrast. Gives depth and warmth to portrait photos and is also great with green vegetation or landscapes as you can see in the sample. Just perfect for a vivid effect on your landscape and portrait photographs giving them a summer tropical feel.
6. Summer – Seaside Shot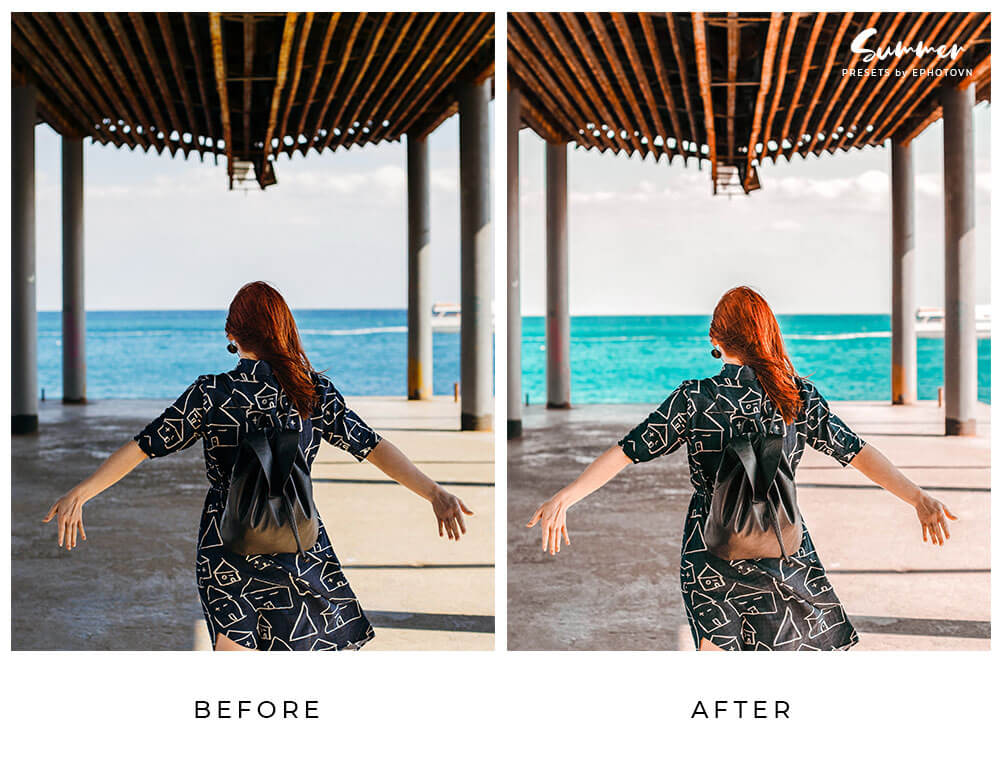 This preset enhances red tones on images. Clarity is great especially on dull and dark settings. You'll love this preset particularly when you're shooting on a cloudy day and there's not enough sunlight. This lightroom presets for landscape photography collection will be fit for such scenes.
7. Summer – Poolside Portrait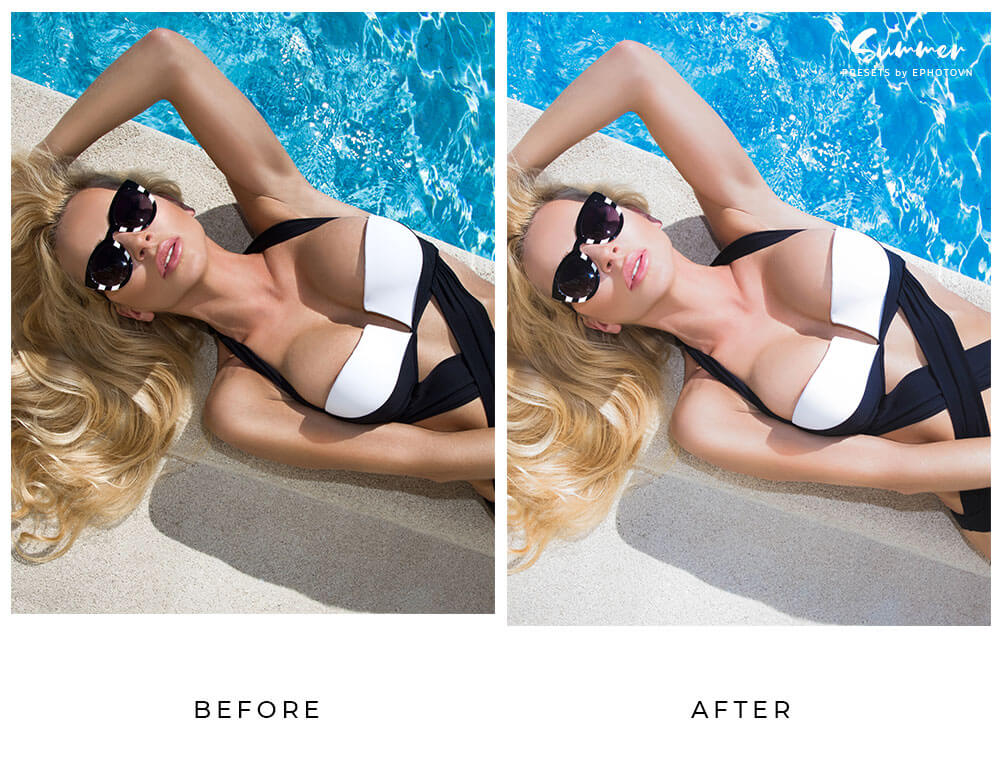 If you like a classic summer feel on your images, this is the best lightroom preset. Settings are a little bit different than the other effects on this collection. It applies a subtle faded effect over vibrant blue hues, which looks stunning on portraits and landscapes as well. Display smoothness and color very well.
8. Summer –  Tropical Vacation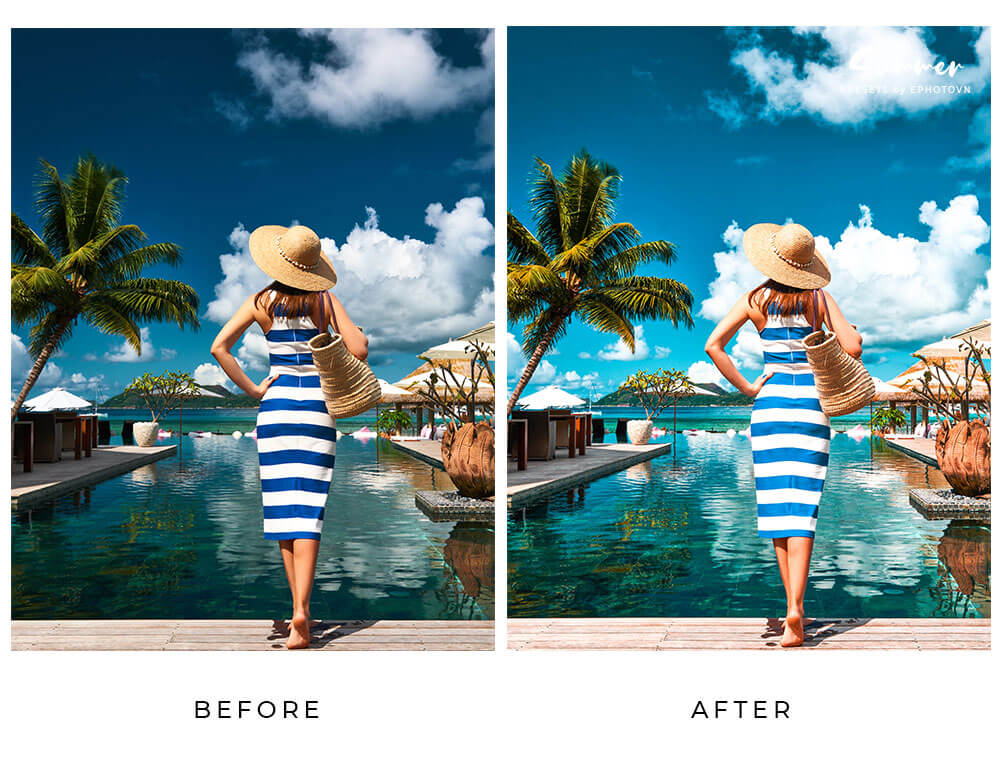 This preset is designed for an awesome bright and sunny mood to your landscape photography. If you like vivid wand warm tones this is the best lightroom preset to use on your images. Goes well with portrait photography images just the same. Imagine the greenery, the warmth and the island vibes you get from this effect.
How to Install the Presets
If you already have Adobe Lightroom on your computer it is fairly easy to install lightroom presets.  How to install Lightroom presets? Follow these simple steps to get installed and get started editing your photos.

See the video to see how easy it is to install presets in Adobe Lightroom. Enjoy!
On Desktop or Computer
1. The first step is to download the Free Ephotovn Blossom Lightroom Presets for Travel Photography here. Note that most lightroom presets free download zip file is what you'll initially get. Then, extract or unzip the folder. You'll see the .XMP files inside which are the preset file extensions.
2. Then, open up Adobe Lightroom.
3. Next, Go to the Develop Module on the upper right area of the Lightroom workspace.
4. Locate the Preset panel. You should see it on the left part of the screen. Add "New Folder". Do this in order for the presets to show in an organized way. How? by right clicking on the Presets Panel.
5. Now that the new folder is made, right-click on the Blossom Presets folder. After that select Import. Notice that a new window will pop up. Locate your downloaded presets. Simply, select the presets and click Import.
Conclusion
There you go! This is how simple it is to install these free lightroom presets. We hope these 10 Free Lightroom Presets for Lifestyle Photography could help you to edit your photos easily. Use them as you wish. Enjoy!
And if you're looking to create more amazing effects for your collection of images, tune in to make sure to catch the next batch of Free Lightroom Presets from Ephotovn.
Check out more of our exclusive Lightroom Presets. Download over 100+ Lightroom Presets for different moods, feels, tones and effects that you'll love. All for Free!
Need Professional Photo Editing Services?
Discover the specialized photo editing and retouching services by the expert team in Ephotovn. It is the fastest and most professional approach you can have for all types of photo editing and retouching needs.
Receive Special Offers and Deals From Ephotovn
We hate spam. Only receive our Newsletter for the latest tips, deals, tutorials, resources and guides.
Related Post