10 Free Photo Editing Apps To Woo Your Instagram Followers
Are you bored of your Instagram photos? Do you want your images to look even better and professional? We bring to you top awesome free photo editing apps that can woo your followers and gain you even more fans, fame and followers. For Instagram celebrities, bloggers or even entrepreneurs, here is a way to improve your Instagram account or store to make your products tempting enough to buy.
Instagram is one of the most popular photo-based social networking app in the world, however the built-in editing tools available on this site is limited and there are great apps that can do magic to your photos. 
Today, we bring to you the top 10 free photo editing tools and apps to woo your Instagram followers.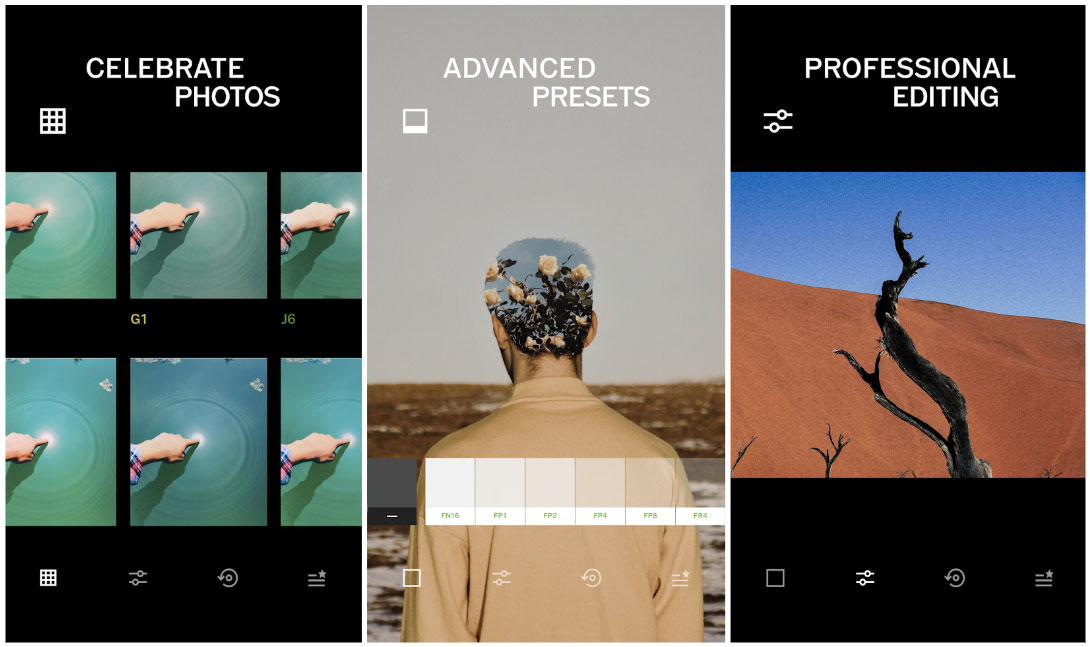 This free photo editing tool is available on both Android as well as iOS devices. This app is more than just a photo editing app, it's also a social app combined into one that's similar to Instagram. It doesn't have too many editing tools but has minimal, useful tools such as highlights, saturation, clarity, sharpness, brightness, contrast, shadows, skin tone and warmth. The app has a good variety of free filters but if you require more options, then you can purchase or avail their premium package to access hundreds of ready to use presets.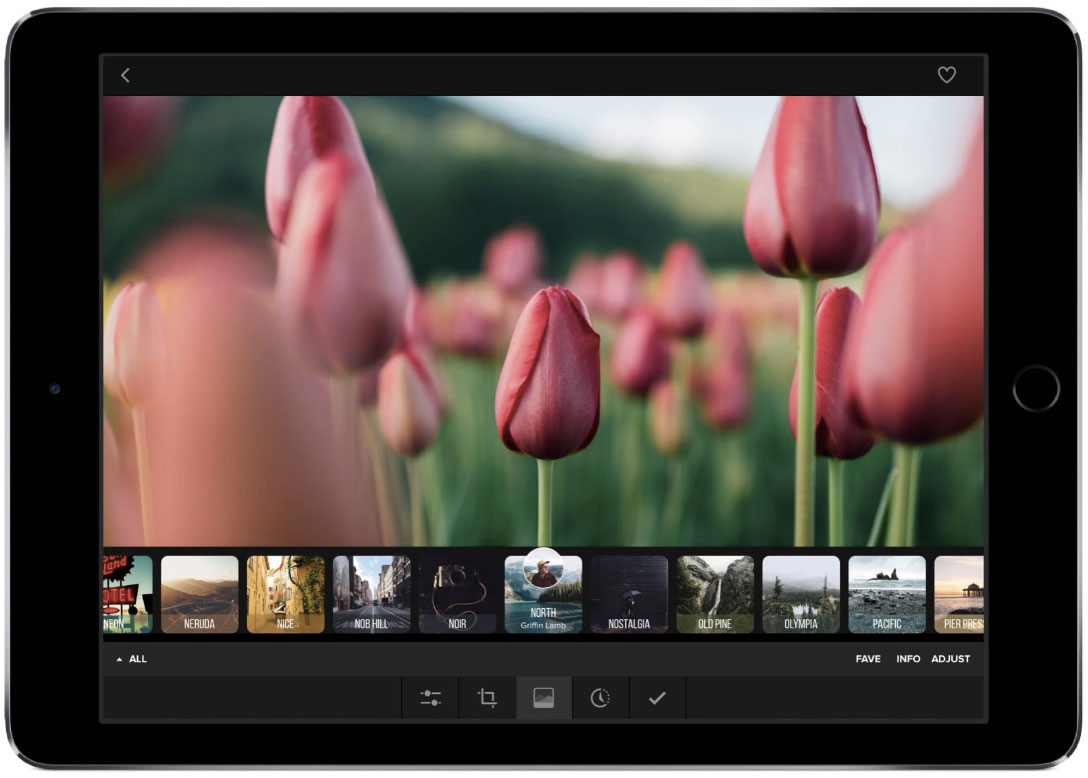 Image Source: priime.com
Available for Apple devices is a free photo editing tool but has in-app purchases that cost USD 0.99 for various filter packs or USD 9.99 for an all in one filter pack. It doesn't have social abilities but is otherwise a lot like VSCO. All styles in this app have been developed by collaborating with top-notch photographers, therefore, has a bit of a backstory and profile of the photographer who helped develop the filter. The most loved thing in this app is its ability to show styles that best fit your image. Now, that's what you call going the extra mile.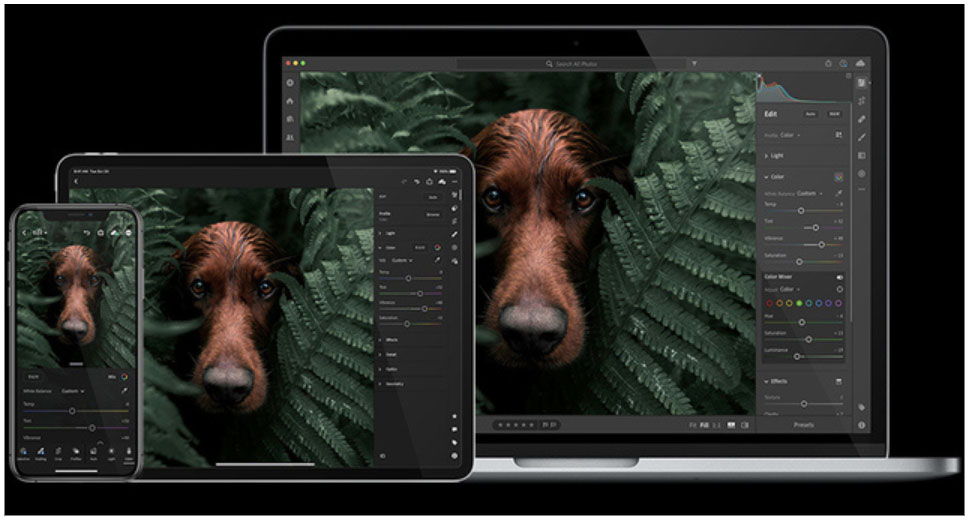 Image Source: adobe.com
Lightroom from Adobe Photoshop is one of the most popular photo editing applications that can be used for desktop, mobile devices or even online. You can expand your photography skills to enhance, edit, store, organize and share your best shots. Achieve the best images using this innovative tool, complete settings, filters and other configurations to create Instagram ready-to-publish photos. With this intuitive photo editing app you can make high-end and powerful images ever.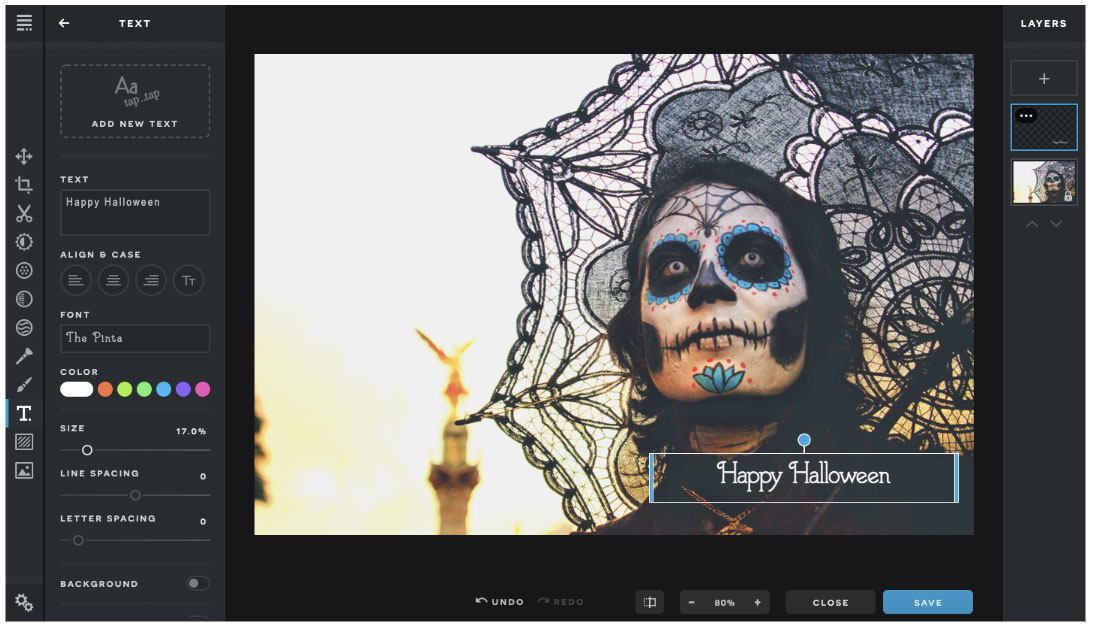 Available on both Android as well as Apple devices this photo editing and filter app helps impress your Instagram followers with overlays, textures and effects. It comes along with photo editing tools like warmth, brightness, red-eye corrector, adjustment, saturation and brush tool for spot brightening, pixelating and darkening.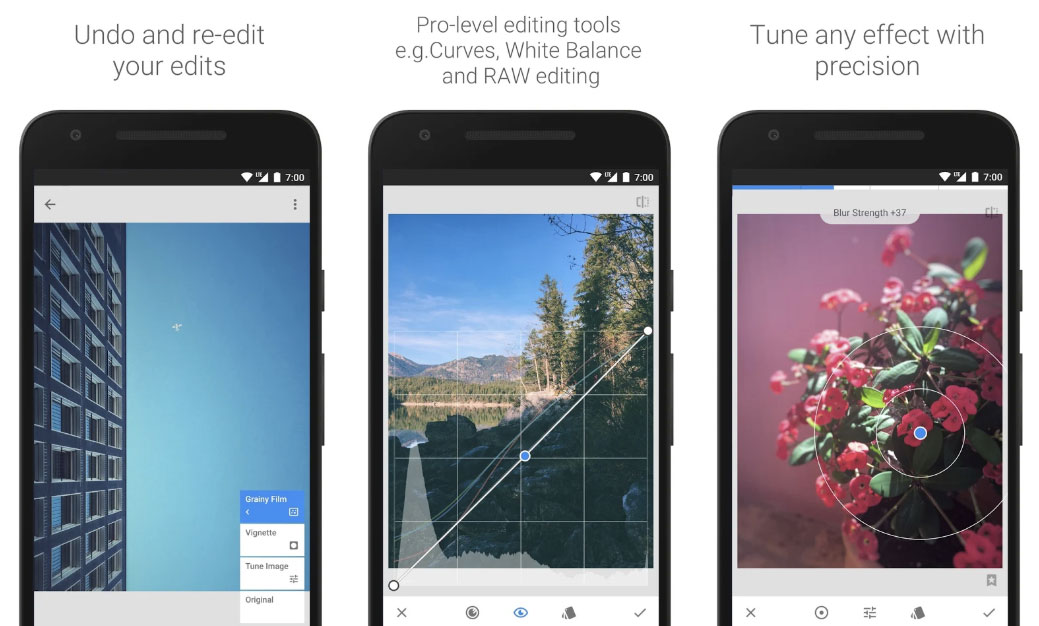 A photo editing app made by Google LLC achieves great ranking amongst all photo editing apps. Available on both android and iOS devices this app gives you full control over your images. You can edit your photos with nine editing tools and a brush tool which helps you correct and adjust saturation, exposure, and colour warmth along with a tool that can remove blemishes and erase objects. This app has filters for glamour, Noir, Retrolux and glow and more. You can easily fine-tune the filter effects by adjusting saturation, brightness and texture.
6. Adobe Photoshop Express (Download App)
Image Source: photoshop.com
Available on Android and iOS, this free photo editing tool allows you to use advanced editing options that can make your images so much better with the help of corrective editing features such as red-eye correction, blemish removal and the best thing is that the app is absolutely free, the app has in-app purchases and the premium features can be accessed when you sign up with Adobe Creative Cloud account. 
Adobe photoshop express is house to excellent features like advanced filters, image adjustment and capabilities, frames and editing features like contrast adjustment, exposure, shadows, highlights, warmth, vibrancy, tint, sharpness, noise reduction, defogging and clarity.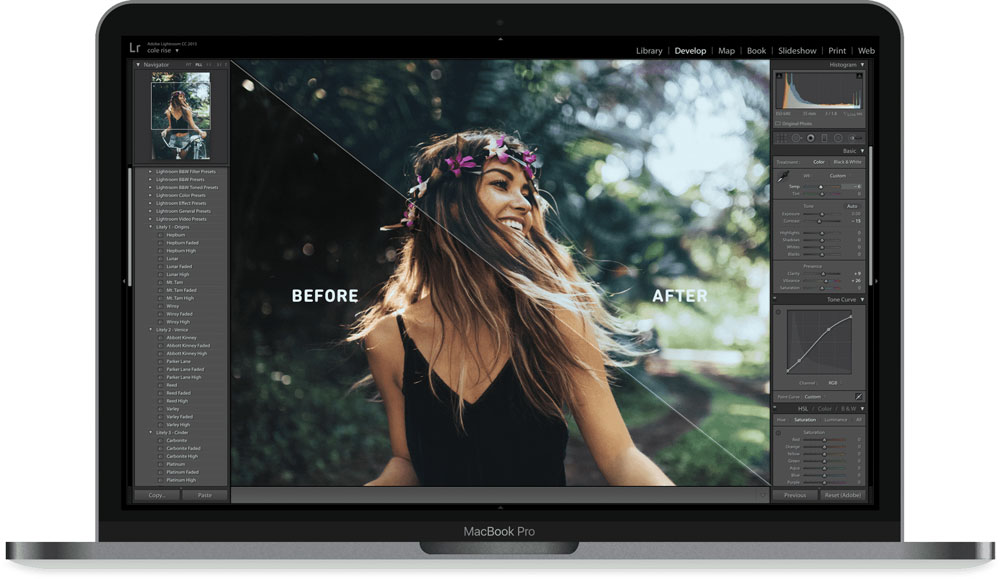 Image Source: lite.ly
Available for Apple devices this app supports photo editing extensions in iOS devices meaning you can use the tool from your photo apps. The app is simple to use with limited editing features like other filter-based apps. The app includes features like adjusting contrast, warmth, exposure, highlights, shadows, vignette, cropping and sharpness. This free photo editing tool includes 9 filters with a few free variations. Additional filters can be purchased from Litely's store.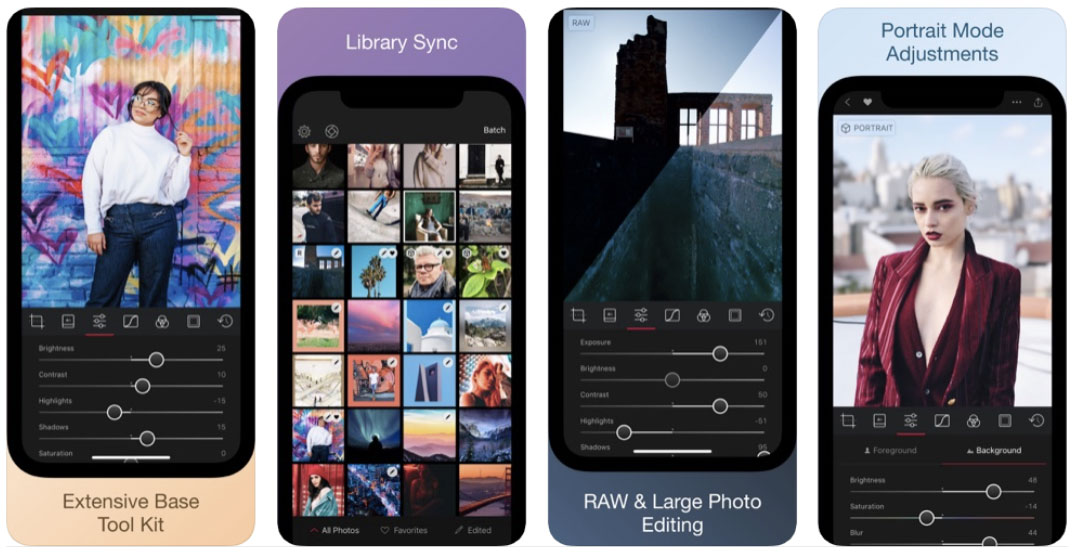 This iOS app is a simple photo editor that's filter-based. You can create your filters through this free photo editing tool it doesn't have as many advanced editing features and have only certain editing features like adjusting contrast, sharpness, brightness and cropping. The best thing about this editor is that it adopts the filters you select to every image unless you change it again. For extra editing options, you can opt for an upgrade and purchase extra filters at the app store.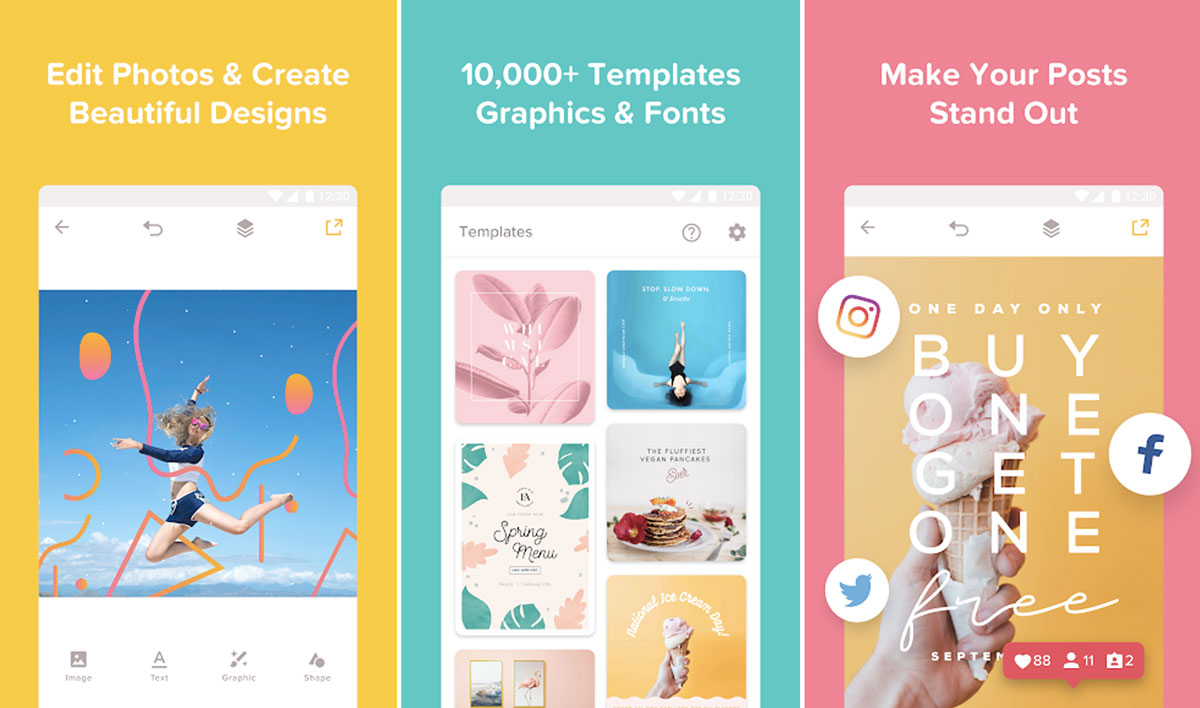 Free for iOS users with in-built purchases and USD3.99 for Android users, this app makes your pictures improve their visuals rather than editing features. Its speciality is adding cool fonts to your images and adding overlays. Create amazing quotes on your pictures with the help of OVER. This free photo editing tool doesn't have advanced editing capabilities in the free version but has 3 free designs daily as well as a few graphic text designs.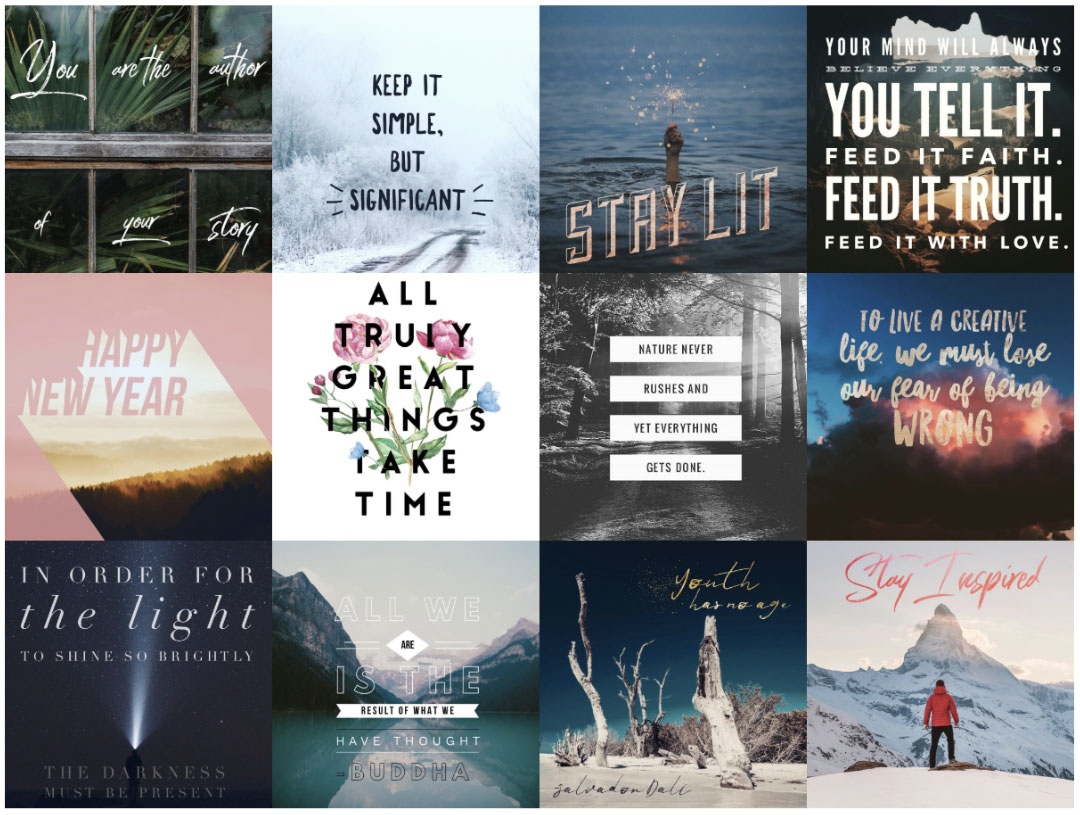 Available on Androids for USD 4.99 as well as iOS for USD 3.99. It is used to add stylized fonts to your images, pretty useful while making quotes or captioning images. You can create your text with chosen fonts with the help of this app. It also has crop options for social apps like covers and posts for Instagram, Facebook, Pinterest and Twitter.
Bottom Line
The best photo editing tools and apps must have advanced editing features like brightness tuning, exposure, highlights, shadows, saturation, warmth, vibrance and saturation, and basic editing features like cropping, rotation, add text, write on images, effects, filters and overlays. Look for an app that has a lot of options even if you don't want too much editing and can be downloaded and used for free. There are alot of other easy-to-use apps that have basic image enhancement and manipulation tools for different settings like night-life, food and scenery. A great photo editing app has innumerable filters, stickers, frames and overlays that comes for free.
Opting for Professional Photo Editing and Retouching Service
The list of apps above, aside the best photo editing tools for best Instagram photos to woo and capture in more followers, fans and customers to your page. If these apps don't meet your expectations and standards, hiring professional photo editing services is the best option.
Our team here at Ephotovn can provide you high-quality image editing services like clipping path, background removal, high-end retouching and professional ecommerce photo editing to make your product photography to a higher level.
We provide high-quality results and perfect prodoct images that can impress your potential clients enough to purchase them. Drop us an email and get in touch with us. We will respond to you as quickly as possible.
Receive Special Offers and Deals From Ephotovn
We hate spam. Only receive our Newsletter for the latest tips, deals, tutorials, resources and guides.
Related Post