5 Inspiring Lessons from Influential and Famous Photographers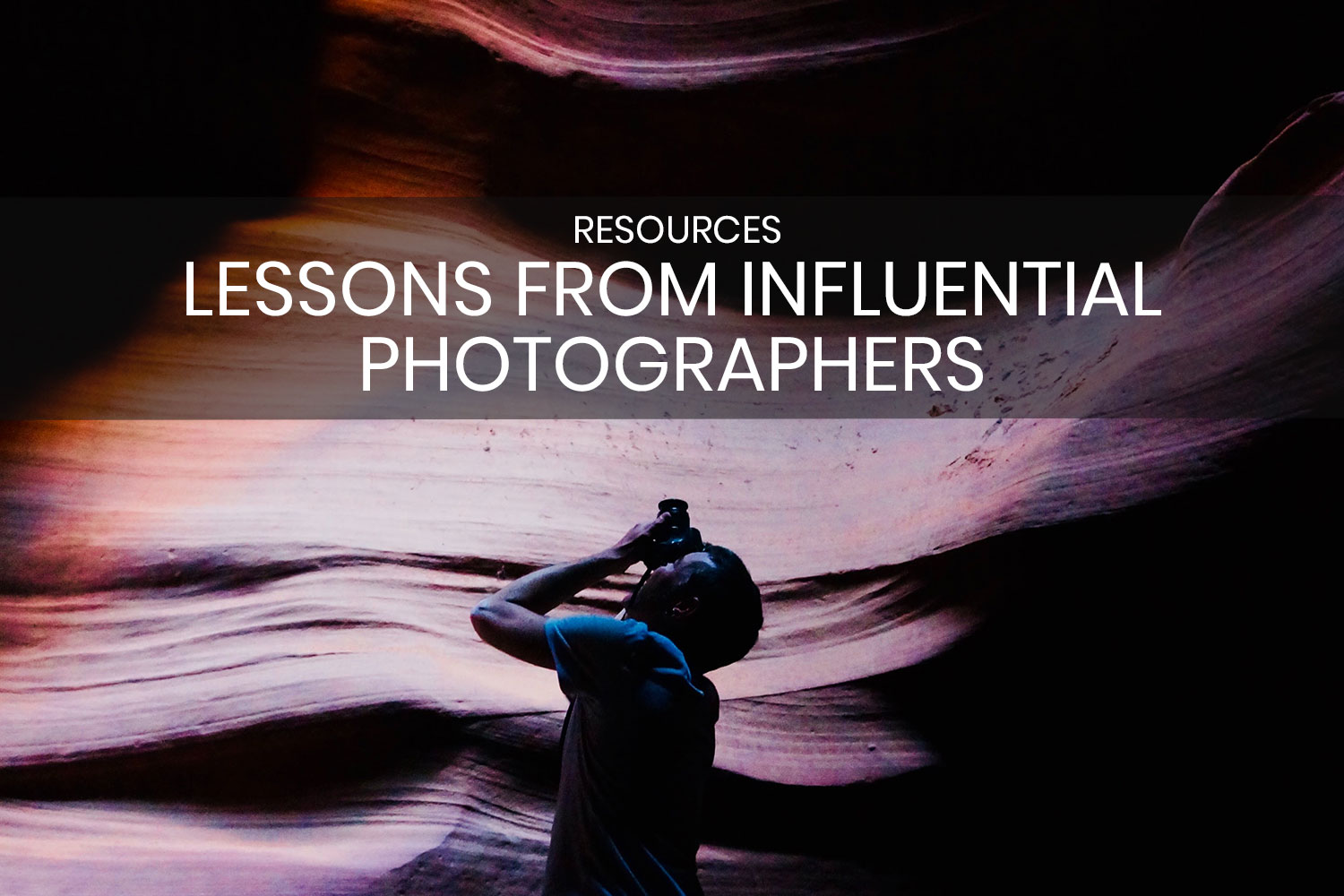 We love to hear stories of people who were able to reach the peak of their career ladder and the height of their dreams. We take interest as to how they did it, while we fill ourselves with imaginations of what it's like to be out there.
These stories greatly affect us. While we reach our own dreams, stories of successful people motivate us to do our best, too. We can relate a lot to them because their experiences are real, just like ours. These experiences are valuable lessons we can learn; and their love for work, we can emulate.
Just like many others, our great and famous photographers have gone through many difficulties and challenges. It is not only their talent but also perseverance that took them to where they are right now. Their passion and love for their work enabled them to capture photographs that last forever.
Time and Perspective
Time and Perspective are among the most important things valued by a photographer.
Time
It takes the right timing to capture a photograph that synchronizes well with nature and the environment. One needs to consider the lighting, the setting, and the mood that is needed for the photograph.
Not only this, but time is valuable not only during the moment a photograph is taken. It is very important during the times when a photograph is needed for the sake of communicating and bringing people into a new perspective.
Many of the worlds' most influential photos earned their right as 'influential' because they were captured just at the right time. They were able to create such emotions and move people as it was the image the world needed to see at the moment. 'The Afghan Girl' by Steve McCurry, 'The Burning Monk' of Malcolm Browne and the 'Fire Escape Collapse' by Stanley Forman are examples of valuable photographs that moved a lot of people worldwide.
Perspective
Perspective helps people interpret the image. It gives a photo a sense of depth and scale, shows whether an object is big or not and more. The angle to which the photograph is taken will direct the audience to the subject and help them see what to focus on.
Perspective determines the intention of the photographer as to how the story should be told.
Just as in real life, timing and perspective greatly influence where we're going to. It can be the deciding factor for our success. Thus, as it is a great time, we share with you these important lessons we can gain from the life of the famous photographers:
1. Steve McCurry
Steve McCurry developed his passion for photography while he was at Penn State University, working for the college newspaper. He labels himself as a 'visual storyteller.' With post-production, he polishes his work by eliminating distractions, applies good exposure and some adjustments so that his audience can focus on the main subject of his photographs.
Steve McCurry was in his late 20s when he risked being arrested and entered rebel-controlled areas of Afghanistan, right before the Russian Invasion. As he got caught up in the war, he documented the devastating situation while in constant danger.
As he, himself was in the warzone, he was able to capture a side of the world no one got to see until his photographs were published and made the headlines in famous newspapers and magazines.
His photographs have taken over the world and this launched his career in photography. Despite the danger, he continued to cover several other conflicts in Afghanistan, Lebanon, Cambodia, and the Philippines.
"But I have found that I get completely consumed by the importance of the story I am telling, the feeling that the world has got to know. It's never about the adrenaline. It's about the story." — Steve McCurry
Furthermore, his endeavors led him to his remarkable photograph; his masterpiece, 'The Afghan Girl.'
LESSON: Success sometimes require great risks.
2. Dorothea Lange
Dorothea Lange was one of the greatest documentary photographers of all time. She was a very empathic person and this is what led to her capture photographs that greatly influenced documentary photographers for generations.
Her documentary during the Great Depression earned a lot of recognition as she gave suffering a face for everyone to see. Her photograph, the 'Migrant Mother' most especially became the most iconic, and until now hangs at the Library of Congress.
Dorothea continued to document the different sufferings and sought to show the unfairness of social policies and increase public awareness about their societal issues.
Although Dorothea contracted polio in her younger years, it did not stop her from pursuing her career and thus, achieved greatness in her photos.
"It formed me, guided me, instructed me, helped me and humiliated me. I've never gotten over it, and I am aware of the force and power of it." — Dorothea Lange
LESSON: Our circumstances must not stop us from pursuing our dreams.
3. Annie Leibovitz
Anna-Lou Leibovitz is one of the most talented and iconic portrait photographers of our time. She was in her early 20s when she got accepted as a photographer for the Rolling Stone Magazine and developed her own trademark technique involving bold colors and unique poses. Her outstanding skills got her the chief photographer title later within two years.
Her skills also gave her the opportunity to accompany the Rolling Stones during one of their international concerts. However, as she was still young, this led her to a devastating situation as she returned from the tour a drug addict.
She managed to pick herself up and later on was able to take the iconic photo of John Lennon cuddled to his wife, Yoko Ono a few hours before John's death. She then left the Rolling Stones and started working for Vanity Fair.
Annie continues to work, taking pictures of famous and influential people. She works hard from planning to collaborating with her post-production team for highend retouching to perfectly deliver her photographs.
Although she still faces difficulties in her personal life at times, she manages to bravely face them and continue to inspire people not only with her photographs but with her own life experiences.
LESSON: Struggles are a part of life. Don't waste your talent by giving up.
4. Andreas Gursky
Andreas Gursky is well-known for his large-scale and digitally manipulated images. He often shoots using a large-format camera and assembles several photographs together and create a one, huge, and detailed image.
He earned the title as the 'Most Expensive Photographer' in 2011 when he was able to sell his photograph Rhein II at a record-breaking price of $4.3 million.
Gursky's works contributed a lot to revolutionizing modern photography because of his practice in digital manipulation. He also recreated the value of mobile phone photography by using it as a medium for his works.
LESSON: Reinvent yourself. Creativity and art have no limitations.
5. Zev Hoover
One of the most commendable and appreciate-worthy art photographer these days is Zev Hoover.
Zev Hoover started taking photographs at a very young age. He was inspired by the artists from his family and the online community. At 14, he began to pursue his passion for photography.
His collection named "littlefolk" is filled with miniature and dream-like images with him as the main character and sometimes, his older sister.
His first few processes involve taking a picture of the background then the person he wants for the image. Then he will then draw a clipping path to cut out the person and integrate it with the background. After that, he blends the colors and draws shadows to make it look realistic.
Zev's images depend a lot on post-processing and image manipulation. At 14, his skills are totally plausible and will definitely be better with experience in the future.
LESSON: Create your own dreams and bring them to reality. There's no right age or time to start.

---
Great and famous photographers capture photos that freeze memorable moments, and these photographs still move us over and over no matter how many years pass. Their success is not only determined by their talent but also by their perseverance and love for their work.
As a photographer, you must always make sure that you bring justice to the image you capture and make it memorable. In order to achieve this, you need to:
…train harder. Hone your skills and do not stop learning. One day, it will be much easier for you to convey a message to people through your photographs.
…learn how to take risks. Do not settle in your comfort zone. It is where you are most uncomfortable that you learn the lessons and find the experiences that you need in order to succeed
…find ways to pique your audiences' interest fast. Strike your audiences hard with bold colors, clean, and high-quality photographs
---
Ephotovn wants to help you in your journey as you create your own story. Even the great and famous photographers send their photographs to post-production to make sure that their stories are beautiful and capable of stirring up emotions.
Let us be your trustworthy partner!
Employ the small tasks to us. Save your time and focus on the bigger part in expanding your brand.
We provide custom services. Let's talk about your needs and we'll do it for you.
We don't ask for much. We love our work and how we help photographers. We understand your needs that's why we only provide affordable, fast, and high-quality post-production output.
Subscribe for More Insightful Tips and Offers from Ephotovn
Resources:
http://100photos.time.com/
https://www.biography.com
https://www.lensculture.com/articles/barbican-centre-photography-and-social-change-dorothea-lange-and-the-politics-of-seeing
https://edition.cnn.com/style/article/steve-mccurry-afghan-girl-photo/index.html
https://www.literacyshed.com/zev-hoover-shed.html
https://www.zev.tv/home
Receive Special Offers and Deals From Ephotovn
We hate spam. Only receive our Newsletter for the latest tips, deals, tutorials, resources and guides.
Related Post